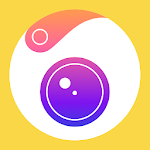 | | |
| --- | --- |
| Price: | Free |
| Version: | 9.6.5 |
| Author: | PinGuo Inc. |
With more than 1 billion downloads worldwide, Camera360 Ultimate is definitely the most popular camera app ever developed. If you wish to take amazing selfies and edit them in a professional manner, you will find no better application for this sort of job. You are free to edit photos upon capturing them, apply them to beautify effects, use different stickers, and make your pictures look more professional. If you are a fan of stylish looks and quality filters, you will enjoy this application that much more. Don't like your background, no problem, erase or blur everything with one click.
Camera360 Ultimate is a free app that supports nearly all mobile operating devices. Both Android and iOS users can acquire this app straight from this page by clicking the download button. Windows Phone users also have the opportunity to download this app by going to the official Microsoft Store. Camera360 Ultimate maintains a high rating of 4.4 on the Google Play Store with more than 4.9 million reviews. We took the liberty of reading users' comments, and have found no instances where users reported heavy bugs or major fixes. This application is completely safe for just about any device.
Main Features
Delicate Selfies – This application revolves around the selfie features. The Camera360 team dedicated itself to building an app that lets you take the sweetest selfies possible. If you are a fan of taking pictures of yourself, you are free to do so by applying professional effects. On the other hand, if you don't like the excessive use of pro filters, you are free to take clean selfies with just one tap. Keep in mind that the application will automatically correct any error in the photo unless you turn this feature off. This goes for background blurring, face wrinkles, and so forth.
Premium Filters – Granted, there are a lot of in-app purchases within the Camera360 app, but you can take professional pictures with free filters just fine. There are more than a hundred categories of filters and each one of them contains a unique effect. Truth be told, most people prefer to stay within the free zone, but if you have a few extra bucks to spare, you will be able to unlock a whole new world of premium features. We dug around the internet only to find that this app stands at the top in just about every category when it comes to professional effects.
Short Movies – This app prides itself on the ability to make short movies. You can do this with both selfies and main cameras. You are also free to apply music, professional effects, and filters. Most popular Tiktokers use this application to produce professional-looking content on a daily basis. There is no reason why you cannot be one of them.
Conclusion
Overall, the 360Camera Ultimate app is a perfect tool for any selfie lover. In order to get the latest APK file of this application, please click the download button and follow the instructions. We always try to upload the cleanest versions of every app for our users.