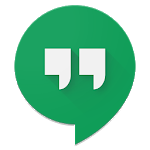 | | |
| --- | --- |
| Price: | Free |
| Version: | Varies by device |
| Author: | Google LLC |
Version:
Varies by device
Update
Android Police mentioned that users are getting weird FCM messages and have no idea why. It may be happening because of Google's platform has a few flaws and is yet to be fixed.
Google is already conducting an investigation on this matter. They are eager to find out why this mass notification is happening. We will try to inform you about this matter as soon as things clear.
Brief
Google Hangouts was announced in 2003. This is an app that brings together a few platforms. Google+Messenger+Google Talk is united to make for a smooth chatting/speaking experience.
Another good thing is that this application is fully cloud-based, meaning you will not have to worry about any lost information. You can easily chat and maintain contact with your friends and family. Google Hangouts also has a top HD quality video streaming platform that never freezes or crashes down.
Google Hangouts is said to be very similar to Messenger, WhatsApp, and Viber. However, judging from the users' reviews, Google Hangout is much faster and easier to use. Plus, uniting large groups into one chat is definitely Google's forte.
Features
You can send both text and hangout messages while using the app.
Send Gifs, pictures, videos, smileys, stickers, etc.
You have the power to connect to any phone in the world.
It is also possible to send messages while in offline mode.
Google Hangouts is able to connect with your Google Voice panel/account.
First things first, let us admit that Google Hangouts is, in fact, a lot like WhatsApp, Viber, and Messenger. We also know that Google Hangouts replaced Google Talk. Users that use above listed apps state that as far as video quality goes, Google is the king. The chatting room contains more than 1000 expressions and emojis. This makes a new communication app that works perfectly.
Pros
Screen sharing.
Sending documents.
Free messages and video chatting.
Offline mode messages.
High definition video streaming.
Group chats/video chats.
Ability to see messages first (no conversation history).
Very easy and smooth browsing experience.
Cons
Google+ account is required.
No news feed.
Cannot connect to more than 100 people.
No Chromecast streaming.
Consumes a lot of internet data.
Minor bugs here and there.
No history delation.
No waiting room.
Conclusion
If you are looking for a software/app that does everything as far as chatting and streaming is concerned, you have come to the right place. Downloading and installing the app only requires you to link your google account to Google Play Store.
Some people prefer Messenger to Google Hangouts. However, these users surely do not pay any attention to video quality. Yes, bandwidth is consumed much faster, but it provides a nice and easy streaming experience.
Google Hangouts is free to use and does not require you to purchase any credits. Reach millions of phones in a matter of seconds and connect with your friends or strangers.
Lately, Google Hangouts is being used much more than Viber or WhatsApp. That is because the quality of video streaming is much, much better.