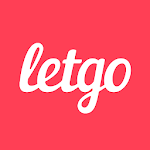 | | |
| --- | --- |
| Price: | Free |
| Version: | 2.11.1 |
| Author: | letgo |
Updates - The Letgo app does not seem to update its product very often. This application seems like a well-built, fast and smooth product that does not require many updates. That being said, there are no recent updates to the feature. You can go ahead and use the current file without having to worry about updates.
Brief
Letgo is an app that offers you a new solution if you are willing to sell or buy used items in your neighborhood. Let go is and always has been a free, fast, and reliable app to use. You can browse nearby items, make a listing of your own, sell via chats, etc.
The Letgo app does not have any restrictions on the sold items. You can easily choose any item to your liking and post it online. Interested people that live nearby will message you first, or finalize the sale online.
Key Features
Sell used/new items to earn some extra money. You are pretty much free to choose anything you like to sell/buy.
Shopping transactions that are tracked safely. Letgo has a built-in function that allows you to track your items.
Private messaging with buyers and sellers. A Nice, smooth interface will make your communication process easier.
Listings with up to five photos. Add any item and attach up to 5 photos to make a nice selling gallery.
The ability to share your listings on Facebook, Twitter, etc. You can share your items on just about every social media platform.
24/7 availability. Letgo does not go down, crash, or freeze. It is an app that has proven that it can work 24/7 with no issues.
Pros
Free to use application with all of its features that are free of charge.
Local selling made easy. Some people argue that it is even better than Craigslist.
Multiple item support. You are not limited to a single listing per day, or a week, or month. You can add as many as you like with up to 5 photos per listing.
No shipping fees included. Letgo does not charge anything for shipping unless you buy a fast delivery method.
Safe selling/buying. Letgo has a team that operates 24/7 and tracks everything that is sold or bought. It does not matter if you are buying or selling, you can browse safely and not worry about getting scammed.
Cons
Pictures on your listings are limited. Five photos may sound like a lot for some sellers, but some items need much more than that.
Summary
Letgo is perfect and by far the most popular app in the local selling department. It is very safe for both buyers and sellers. It is free to download and use. Everyone with a phone/desktop computer can use this app to the fullest.
How to Download Letgo?
You can use the link provided on this page, go to letgo.com or visit Google/Android Store to download this app. As mentioned above, it is free to use on any device.