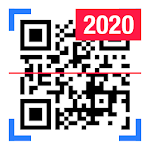 | | |
| --- | --- |
| Price: | Free |
| Version: | 1.0.9 |
| Author: | Simple Design Ltd. |
Free QR Scanner is an app that lets you decode QR codes and barcodes for free. This application has been developed in 2017 and has been growing in popularity ever since. With more than 100 million downloads worldwide, Free QR Scanner claims the top spots on every market in scanner categories. It does not matter what you are trying to decode, this app has support for everything, be it an email, promo code, coupon, URL, and so forth. Free QR Scanner works with amazing speed, decoding everything in less than a second. It has a nicely designed zoom feature that lets you zoom in on any object from far away.
Free QR Scanner is a completely free app and supports nearly all mobile operating systems. Both Android and iOS users are free to download this application right now from this very page. Windows Phone users also have the opportunity to acquire this app by going to the official Microsoft Store. Free QR Scanner maintains a high rating of 4.6 on the Google Play Store with more than 57,000 unique user reviews. However, these numbers alone do not reflect the popularity of this app, because most downloads happen on the official website.
Main Features
QR & Barcode Scanner – These are the main features this application is used for. If you are trying to scan a simple QR code or a barcode, just open up the app, point the camera at the object, and the application will do the rest. Most phones have a QR scanner already built inside the operating system, however, most of these apps are quite slow and do not get the latest updates. With Free QR Scanner, you will be able to get a free package of lifetime updates without having to pay anything. Get this app right now, and make the scanning process easier and smoother.
Promo Codes & Coupons – The shopping world is advancing at an amazing speed and so are the coupons/promo codes. We all know that shops use QR codes in order to help customers unlock certain deals and promo codes. Having support for all kinds of barcodes, this application will help you decode just about any coupon you might come across. It might take a little longer to perform the action of applying a certain deal to your shopping cart, but it's definitely worth the wait.
Privacy – Being one of the safest apps on the market, Free QR Scanner will not ask you for additional permissions other than the permission for your camera. The only thing it needs to function at its best is to have complete access to your mobile phone's camera and zoom. Once that is settled, Free QR Scanner will never ask you again for another permission.
Conclusion
All in all, the Free QR Scanner application is a perfect tool for scanning barcodes, QR codes, coupons, and promo codes. In order to download the latest APK file, please click the download button and follow the instructions. We always try to provide the cleanest files for our users.