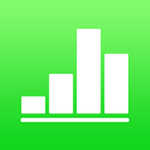 | | |
| --- | --- |
| Price: | Free |
| Version: | iOS 13.1+ |
| Author: | Apple, Inc. |
Numbers is an awesome app that lets you create beautiful graphs and charts, edit existing files, and make spreadsheets in seconds. Numbers is innovative software designed to compete with giants like Microsoft Excel, and so far it is doing a pretty good job.
The Numbers app allows you to create, and edit complex files in real-time. This feature is especially useful when working with a team. You can sync this app across numerous devices like iPad, iPhone, and even different tablets. All of this can be done by syncing the Numbers app with iCloud.
The Numbers app can also interact pretty well with Microsoft Excel, making it a well-rounded app for everyday use. There are many features similar to Microsoft Excel, but combining these two apps together lets you bring your work to a whole new level.
Numbers is a free app that can be downloaded both from the Apple store and this page. It maintains a pretty high rating on the Apple store of 4.3 and is reviewed by more than 100,000 users. After skimming through the comments, we have found no instances where users reported heavy bugs or minor freezes.
Main Features
Beautiful Spreadsheets – The numbers app allows you to place different forms, charts, and tablets anywhere on the screen. You can create beautiful-looking spreadsheets in seconds with its flexible tools. Simply choose a pre-installed template, place it on the screen, enter data, and you're good to go. The Numbers app also features powerful graphics tools like an alignment guide, ruler, and so forth.
Work With Your Team – The numbers app lets you connect with other users by sharing access to your files. Just like with Google Drive, this app also allows you to grant other users permission to view, edit, or download your files. This feature is very useful for people who like to work with teams on the go. All team members can be granted access to edit different spreadsheets, making the whole process easier.
Share Your Work – The Numbers app lets you send your spreadsheets to other team members by using AirDrop. You can also generate a unique link to your work, and share them on social media platforms like Facebook, Twitter, and so forth. You are also granted access to features like exporting your spreadsheets to PDF, and. CSV files. Whenever your work is done, simply click the "Print" button, and print just about anything with the AirPrint application.
iCloud Access – As mentioned above, by using iCloud you can access all of your spreadsheets at once. Meaning, as long as you have access to your iCloud account, you will never have to worry about lost data or information theft.
Conclusion
Overall, the Numbers app is an awesome tool to have if your daily job includes numbers, spreadsheets, and graphs. This app has already been downloaded more than 10 million times and is being used on a daily basis. If you are now convinced that you need to have this app in your arsenal, simply click the download button on this page to get started.