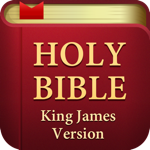 | | |
| --- | --- |
| Price: | Free |
| Version: | 2.3.0 |
| Author: | iDailybread.org |
King James Bible is a tool that lets you study the Bible from anywhere in the world. You can conveniently use this app to study all of the Bible's contents on the go. It does not matter what phone you are using, chances are the King James Bible app will be supported by your device.
King James Bible presents a new, simplified version of the Bible with a lot of translations, notes, and bookmarks for your studying pleasure. It's one of the most popular apps in the Bible category. If you are a Christian, and still have not downloaded this app, you are greatly missing out. Simply click the download button to get the latest APK of the KJB app.
The King James Bible app maintains a high rating of 4.9 on the Google Play Store with more than 630,000 user reviews. We were curious about such high ratings and took the liberty of conducting a little research. We have skimmed through the reviews, and as it turns out, none of the reviews are fake. Even more, almost every user is enjoying the King James Bible app on a daily basis.
Main Features
Read the Bible anywhere – This application features a swiping tool to help you go from page to page in seconds. As soon as you are finished reading a certain page, simply swipe left to jump onto the next page. Forgot something? No problem, swipe right to get back to the previous page.
Copy, paste, and share – This app is open-source, which means that all of the content can be copied and pasted. You are also free to share your favorite verses on social media platforms like Facebook, Twitter, Instagram, and so forth.
Study offline – You don't need to have access to the internet in order to use this app. The King James Bible app functions pretty nicely even without the internet. However, there are some features like translation, and comparison of the texts that require internet access.
Audio version – Needless to say, this app features an audio version and lets you listen instead of reading. This feature is especially useful when on the road. Simply plug your phone into your car's USB port, open up the app, and listen to the Bible in your car.
Keyword search – If you are a Bible lover, you must have a few verses that you know at all times. In order to search for such content, simply use the search bar to find any content with keyword research tools.
Bookmarks – Surely you will fall in love with some parts of the Bible, and you will want to bookmark them, right? Not an issue, the King James Bible app lets you do so with a single tap/click.
Conclusion
If you are a Bible lover, and still have not downloaded this app, you are greatly missing out. There is a simplified, as well as the original version included in this app, making the studying process much easier. In order to get started, simply click the download button located on this page.