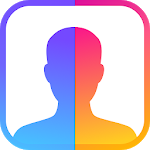 | | |
| --- | --- |
| Price: | Free |
| Version: | 4.1.1 |
| Author: | FaceApp Inc |
Take the highest quality selfies with the FaceApp now. This app allows you to take awesome selfies, and edit them in real-time. Furthermore, there are tons of new effects added that make the editing process much more smoother and enjoyable. The FaceApp application is designed to help you take professional pictures, and edit them with just a few taps/clicks. If you still have not downloaded this awesome app, click the download button right now to get started.
FaceApp is one of the most popular apps in the editing category. It has already been downloaded more than 500 million times and is still growing in popularity on a daily basis. FaceApp will help you take, edit, and even impersonate other characters with your selfies. These fun features make it impossible to resist the comfort of this app.
FaceApp can be downloaded both from this page, and Google Play/Apple stores. It maintains a high rating of 4.6 with more than 3.3 million reviews. We have skimmed through the comments, and as it turns out, most of the users are quite comfortable with using this app on a daily basis.
Main Features
Hollywood filter – The Hollywood Filter is a feature that lets you apply a certain effect to your selfies. This filter is used to make every picture look smoother and much more professional. Apply this effect now, and never go back to the regular selfies again.
Change hairstyle, and color – With FaceApp, you are able to edit your hairstyle and hair color with a single tap. There are hundreds of hairstyles and colors to choose from, meaning you will never get bored while playing with these features.
Find a perfect beard style – Needless to say, this feature is reserved for boys, but girls can also have fun while experimenting with the new beard styles. However, we advise all women to post pictures that are filtered through this feature on social media.
Add a smiling effect – If you are a grumpy person like me, and don't like to smile while taking pictures, the smiling feature from FaceApp will help you fix this problem. It takes only a second to add a smiling effect to any picture.
Change background – Finding the perfect background for selfies is never easy, and FaceApp knows it. This app features more than a thousand different backgrounds you can choose from to add to your selfies. Needless to say, all of them are free.
Apply makeup – This is probably the most widely used feature of FaceApp. All women love this feature because it lets them take selfies without any makeup. Why? – Because it can be added later in a few seconds. However, please note that this feature is only available for paid users.
Edit size – You are also free to edit the size of your picture, rotate it, or even make it smaller. However, just like the makeup effect, this feature is also reserved for paid users only.
Conclusion
If you are a selfie lover, you are definitely missing out if you still have not installed the FaceApp application. In order to get started, click the download button located on this page.