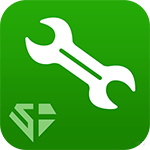 | | |
| --- | --- |
| Price: | Free |
| Version: | 4.0 |
| Author: | SBGAMEHACKER |
Game Hacker is an application that does exactly what its name suggests. It helps you hack games, get unlimited coins, accumulate points, multiply lives, and so forth. If used correctly, this app offers every user limitless possibilities. Game Hacker was designed by the Game Hacker INC and is offered for download across a few websites. Unfortunately, you cannot get this app from the official stores like Google Play, however, you are free to download this app straight from this page by clicking the download button.
Main Features
● Unlimited Options – Unlike many other apps, Game Hacker is proficient in multiplying the user's lives without charging a fee. You will be able to add coins, get more lives, and accumulate numerous points. The best thing about this app is that it's cost-free, and will not ask you to upgrade to a paid subscription.
● Ad-Free Gameplay – Are you tired of annoying ads that are popping up out of nowhere every second? I'm sure you are. Game Hacker disables all the ads within the game, letting you enjoy ad-free gameplay on a daily basis.
● Small-Size – The Game Hacker application is compressed, and does not take much of your precious space on your mobile phone. Even more, this app only requires a few megabytes of your storage in order to function perfectly. No more worrying about gigabytes, and lost storage, download Game, Hacker, now and enjoy all of its features while sparing only a few megabytes.
● No Rooting – With an app like this, it would sound natural if the application asked to root your phone, however, the Game Hacker app does not require you to perform an action like this. It can work without needing full access to your phone settings. We don't exactly know how this is possible, but it seems like that Game Hacker team did a pretty good job with this application.
● Personalized Search Bar – The Game Hacker application lets you customize your search in order to help you find whatever you need the most. For example, if you are looking to improve the gameplay by adding additional lives to your game, the only thing you need to do is simply enter the name of the game in the search bar, and Game Hacker will do the rest for you.
● Language Support – Game Hacker is conveniently offering language support for more than one country. Needless to say, English is the main language, however, Chinese and Russian is also supported. To be completely precise, the Russian language is removed from the interface for now for unknown reasons, but the Chinese version still stands.
Conclusion
If you are a game lover and like to use cheat codes every now and then, you must definitely consider downloading this amazing app. Why? You might ask. Well, because, you will not have the need to search for different cheat codes separately anymore. The Game Hacker application groups every cheat in one place, allowing you to perform different actions with a few clicks, and taps. If you wish to download this app, click the download button located on this page.