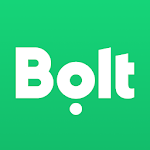 | | |
| --- | --- |
| Price: | Free |
| Version: | CA.5.32 |
| Author: | Bolt Technology |
The Bolt app will let you order a car in seconds, it is a ride-hailing app that's been on the market for quite some time. Formerly called Taxify, Bolt is one of the most popular apps in the "catch-a-ride" category. This application has already been downloaded more than 500 million times and is arguably one of the most popular apps that have been introduced on the car market.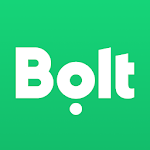 Bolt
Bolt supports both Android and iOS phones, meaning it can be downloaded both from Google Play and Apple stores. It maintains a high rating of 4.5 on Google Play Store with more than 400,000 user reviews. We have skimmed through the comments, and as it turns out, Bolt is a little bit more expensive than other apps but provides better quality.
Main Features
Prices – Bolt is now known as a cheap app, but the prices are different in each country. Overall, Bolt's pricing can be called average, but this app provides the best quality on the market. The cars are of higher quality, meaning the old cars don't stand a chance when it comes to obtaining an opportunity to work at Bolt.
Ordering a ride quickly – It only takes a few seconds to order a car. Every country is highly populated with Bolt cars, so it will take less than one minute to order a Bolt car. The only thing you need to do is set your location, and destination and click the order button, after which the Bolt app will assign you one of their cars in seconds.
See the price upfront – This is another great feature. You will be able to see the price upfront at all times. If you don't like the price, you can change the category of cars, and order a cheaper ride. In most cases, this is unnecessary because all of Bolt's rides are pretty cheap.
Rate your ride – Bolt is very careful and picks every driver with care. However, if you are unlucky and did not quite enjoy your ride, you can give your car professional a low rating, after which the Bolt will take care of this matter. You are also free to report drivers to Bolt if something unexpected happens. Once again, in most cases, this is unnecessary because Bolt is said to be very safe.
Credit card payments – If you don't like carrying a lot of cash around, you can attach your credit card to the Bolt app and pay for each ride this way. After you are dropped off at your location, the Bolt app will automatically charge your credit card. However, if you are not a fan of this option, you are free to change the payment method to "cash". Bolt drivers always carry around a lot of cash with them, so giving back the change is never a problem.
Conclusion
I'm sure you have already heard of this app, but if somehow you still have not downloaded the Bolt app, we advise you to do so by clicking the download button located on this page. We always try to upload the latest APK files for every app.