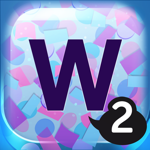 | | |
| --- | --- |
| Price: | Free |
| Version: | 13.304 |
| Author: | Zynga |
Words With Friends 2 is an amazing puzzle game where you build words from given characters. This game has advanced features and looks like a whole new different app compared to the previous version. Unlike Words With Friends 1, in this game, you can make up teams and compete with numerous challengers. The person who gets the highest score on the winning team will be awarded the most points that can be used later to climb ranks. This game presents an amazing world of adventures where each level becomes more difficult than the previous one.
Words With Friends 2 is a completely free app that supports both iOS and Android devices. Windows phone users also have the opportunity of using this app by going to the official Microsoft Store. On the other hand, you can download the latest APK file of this game straight from this page. Words With Friends 2 maintains a high rating of 3.9 on the Google Play Store with more than 344,000 unique user reviews. With more than 100 million downloads worldwide, this is one of the most popular word games ever developed.
Main Features
Create a Game – Upon starting the game you will be given the possibility to create a new game. After this, a new opponent will be chosen according to your ranks. Your job is to search and assemble the highest scoring word combinations and complete them as soon as possible. If you do not like playing with strangers, inviting friends and family members is something you can do as well. Of course, your future opponent must have this game installed as well. If not, you can send them an invite via Messenger, or email.
Solo Challenges – If you are a fan of solo gameplay, this feature will definitely make your day. You will be able to challenge WordMasters that get tougher to beat with each level. Upon passing each map, you will have to assemble the highest scoring words that are hard to assemble. Solo gameplay allows you to enrich your vocabulary, thus helping you compete at a higher level with other players later on.
Collect Rewards – You will be given an opportunity to collect unique rewards after passing each level. Needless to say, prizes will get bigger as the game progress. Play your best game, unlock the Reward Pass, and enjoy new themes every six weeks.
Speed Events – If you want to become a better player, you will have to compete in speed events at least a few times. Speed events allow you to become a fast thinker, which in turn makes your gameplay much smoother. Completing many speed events will definitely help you gain a higher reputation with ranked players.
Conclusion
All in all, Words With Friends 2 is a nicely built game that features a lot of new updates and gaming styles. If you wish to download the latest APK version of this game, please click the download button located on this page. We always strive to provide the cleanest files for our users.