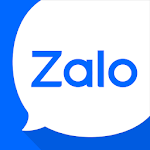 | | |
| --- | --- |
| Price: | Free |
| Version: | 0.0.1(free) |
| Author: | Zalo Group |
Zalo is one of the most popular messaging apps ever developed. This app does not only let you send free messages but also call and video call for free. The Zalo app provides one of the richest experiences an app can offer. Zalo was first launched in 2009 and has been growing in popularity ever since. It's now one of the leading messaging apps on the market. Sign up with Zalo now, complete your profile, and get in touch with your friends and family for free. The best thing about this app is that it provides the highest quality calls on the market.
Zalo is a free app that supports both iOS and Android mobile operating devices. It does not matter which mobile phone you are using, chances are the Zalo app will be supported. Windows Phone users also have the opportunity of using this app by going to the official Microsoft Store. Zalo maintains a high rating of 4.3 on the Google Play Store with more than 1.5 million unique user reviews. With more than 500 million downloads worldwide, Zalo is one of the most popular apps ever developed. Go ahead, click the download button right now, and enjoy the free messaging features provided by Zalo.
Main Features
Texts – It's only logical to send free texts with a free messaging app. However, the Zalo app takes this process a notch further. You are free to upload different media files including pictures, videos, and large-sized documents, and send them to your friends and family in seconds. You are also able to enrich your conversation with different smileys, stickers, emojis, and gifs. Simply open up the chat, go to the menu, and choose different items from the rich multimedia database.
Calls – Needless to say, the Zalo app would not be a serious contender on the market if it did not have the highest quality calls. We have skimmed through dozens of user reviews, and as it turns out, the Zalo app provides free calls that are completely bug-free. Please note that Zalo also features free video calls that are of high quality as well. You will be able to make out the slightest details in the background with the Zalo app.
Profile – Allowing you to have complete control over your profile is what makes the Zalo app stand out on the market. You are free to add your birthday, date of birth, sex, relationship status, and many more details. This profile feature closely resembles that of Facebook, however, it is still different from most social media platforms. With Zalo, you are able to upload thousands of pictures to your profiles without having to pay anything.
Conclusion
All in all, the Zalo app is a perfect messaging tool for just about anyone. What's even more amazing is that this app includes social media features as well. Sign up with Zalo now, complete your profile, and keep close contact with your friends and family. In order to get started, please click the download button located on this page.