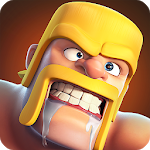 | | |
| --- | --- |
| Price: | Free |
| Version: | 13.576.9 |
| Author: | Supercell |
Join Clash of Clans and build your village, create a clan, get stronger along with other players, and compete in ruthless clan wars. The Clash of Clans app allows you to enter a whole new world of fighting where the weak die fast. For you to succeed, you will need time, skills, and connections. Invite your friends, create alliances, and eliminate other players with ease.
Clash of Clans is a free app that can be downloaded both from this page, and Google Play/Apple stores. It maintains a high rating of 4.5 with more than 54 million user reviews. This application has been downloaded more than 500 million times and is one of the most popular games this world has ever seen.
Main Features
Join a clan – You are given the possibility to join a clan or create your own upon entering the game. Needless to say, it will be very hard to survive on your own, because Clash of Clans is a multiplayer game.
Fight clan wars – If you have a strong alliance, it would make sense to engage in ruthless battles. Compete in clan wars to get rewarded, and unlock new items.
Clan war leagues – Clan war leagues allow you to compete as a solo player in clan wars. This process will hone your skills, and make you a better player altogether.
Magic items – Clan Games gives you the possibility to get magic items, which are made available only in clan wars. Work together with your teammates, defeat other players, and receive magic items as a prize.
Defend your village – Now that you have built a village, it needs defending. Put up a few cannons around it, set traps, and throw bombs when other players come to attack you.
Defeat the Goblin King – As you advance, you are given the chance to fight the Goblin King. This is a monster boss who will drop a lot of valuable items if you manage to defeat it.
Come up with battle strategies – Playing Clash of Clans is never easy, which means you will have to come up with a new strategy as the clan wars progress. If you fail to do this on a daily basis, you will most likely be eliminated.
Friendly challenges – It's not all about fierce competition. You can have friendly clan wars with your friends, or even other clans. You will be rewarded through this process with items, money, and different characters.
Train troops – Needless to say, your troops need to be trained in order to survive the harsh world of Clash and Clans. If you train them enough, the troops will unlock new levels, which means they will be able to wear new items, making them stronger altogether.
Plan a journey – Enter the Builder Base, and explore the mysterious world that lets you discover new characters and magic items.
Conclusion
If you have taken a liking to this game and would love to have it on your phone, simply click the download button on this page to get started.