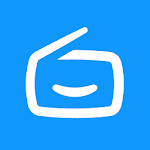 | | |
| --- | --- |
| Price: | Free |
| Version: | 2.8.7 |
| Author: | Streema, Inc. |
isten to NBC, NPR, BBC Radio, MNR, KNBR, WNYC, and many other popular channels for free. Simple Radio was developed by a company called Streema and was taken public years ago. With more than 150 million downloads worldwide, Simple Radio is one of the most popular radio apps ever created. There are more than 50,000 stations for you to choose from. In order to make this process simpler, most channels are divided into categories, making the browsing process much simpler. You can also search through thousands of channels by your country, genre, city, or specific location.
Simple Radio is a free app that supports both iOS and Android mobile operating systems. Windows phone users also have the opportunity to download this app by going to the official Microsoft Store. Simple Radio maintains a high rating of 4.5 on the Google Play Store with more than 375,000 unique user reviews. We took the liberty of skimming through the comments, and as it turns out, there are no serious bugs or fixes in this application. This means that the Simple Radio app is completely safe for you to download.
Main Features
Chromecast Support – I'm sure you have heard of Google Chromecast by now. Well, the good news is you can listen to Simple Radio channels on any device that has support for Google Chromecast. In order to make full use of this feature, you must know your way around Chromecasting. However, if you are still unfamiliar, the process is pretty simple. Simply open up the Google Home app, click on "set up a new device", and choose the device on which you would like to stream the Simple Radio channels.
Simple Interface – It must be pretty difficult to find your way around an app that has more than 50,000 radio channels, right? Well, think again, because Simple Radio features a nicely designed interface that is very easy to get used to. All channels are divided into categories, making it easier for you to find your desired radio stations. If you are still having some problems navigating this app, simply go to the "Genres" and pick your favorite channels from there.
Favorites – We all have certain channels that we love. Finding them one by one is a pain and takes a great amount of time. In order to solve this problem, Simple Radio developed a nice feature called the "Favorites". Simply click the "Heart" button located at the top of every channel and it will be automatically added to your favorites. If you wish to remove them, simply click the trash button to get rid of them permanently.
Conclusion
All in all, Simple Radio is one of the most popular radio streaming apps ever developed. If you still have not acquired this app, you are greatly missing out. In order to get started, please click the download button located on this page and follow the instructions. We always strive to upload the cleanest, and the latest APK files for our users.