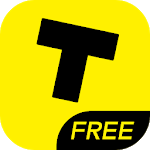 | | |
| --- | --- |
| Price: | Free |
| Version: | 9.5.2.02 |
| Author: | TopBuzz |
TopBuzz is a news sharing platform developed in 2011. You can choose to go to their official website in order to update yourself on the latest news in the world, but using their newly developed app is much easier. This app presents various categories including local news, worldwide news, entertainment, gaming, lifestyle, and much more. If you are searching for one app to provide news in every category for you, you have already found it. TopBuzz has a simple interface, each news article/video is just one click away. You are free to swipe from one video to another in seconds without having to exit and load numerous pages.
Unfortunately, the TopBuzz app has been removed from the official stores quite a few times. For reasons unknown to us, this seems to be happening more and more often lately. Right now, the TopBuzz app is available on the Google Play Store with only 1 thousand user reviews. But, our website is more than happy to provide the latest APK version of the TopBuzz app for you. We always try to upload the cleanest APK files for our users, so, feel free to get started by clicking the download button located on this page.
Main Features
News – The TopBuzz app provides news in all categories. You can get extreme weather news, be updated on the local occurrences, and much more. If you are searching for one app to include it all for you, TopBuzz is probably your best choice. It's incredibly easy to switch between the categories, and it even lets you access news from different categories at the same time. However, if you are only interested in the local news, the TopBuzz app can offer you a personalized experience.
Tips & Tricks – TopBuzz does a great job when it comes to DIY stuff. You can learn a lot of valuable tips and tricks from videos uploaded from all over the world. Users from every country are trying to make useful content that will go viral on TopBuzz, and this is great news for you because you will be able to get lots of advice without having to pay anything. The TopBuzz app will enlighten you about different niches such as food, cooking, lifestyle, tech, autos, and so forth.
Simple Interface – We love this app because it has one of the most lightweight engines we have ever seen. The app itself is small and does not require a lot of places to install the files. Additionally, when you log in to the TopBuzz app, you will be able to experience a lightweight design that will let you browse through the categories within seconds.
Conclusion
All in all, the TopBuzz app is a perfect choice for just about any person. If you are interested in local/worldwide news, tips, tricks, and DIY stuff, the TopBuzz app is a definite must-have tool for you. In order to get started, please click the download button located on this page. We always strive to upload the latest APK files for our users.