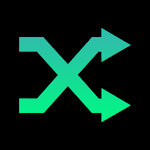 | | |
| --- | --- |
| Price: | Free |
| Version: | 7.27.1 |
| Author: | Slacker Inc. |
Slacker Radio is probably one of the best free music tools we have today. This application offers high-quality song streaming features along with an internet-free listening experience. Slacker Radio lets its users personalize the tracks according to their taste, meaning you will not have to put up with annoying artists, and unknown songs. If you are a lover of dynamic personalization, this application would be right at home on your mobile phone. What's even more amazing, with Slacker Radio you are free to listen to any piece of content without having an internet connection.
Slacker Radio is a free app that can be downloaded both from Apple and Google Play Stores. It maintains a high rating of 4.3 with more than 300,000 user reviews. We have skimmed through the comments, and, as it turns out, the app is rid of all the bugs present in the previous version and is functioning perfectly on a daily basis.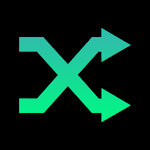 Slacker Radio
Main Features
● Multiple Device Support – It does not matter what sort of device you are using while listening to music, Slacker Radio offers support for a wide range of devices including mobile phones, tablets, desktop computers, laptops, and so forth. What's even better is that you can listen to Slacker Radio content while driving. The simple Bluetooth integration is more than enough to broadcast every song from the Slacker Radio app.
● Free Content – It must be mentioned over and over again, Slacker Radio content is 100% free, meaning there are no annoying ads or in-app purchases. Granted, you will see some ads, and pop-ups along the way, but we have tried the app ourselves, and the advertising is not annoying at all.
● Subscription – We have mentioned that everything is free on Slacker Radio, and while it is completely true, this app also offers a paid subscription that will allow you to have access to all sorts of amazing songs and artist playlists. Don't get us wrong, you don't have to pay anything in order to use this app, but if you would like some premium features, it will cost you a few bucks.
● Sharing Functions – Did you know that the stations are sharable on this app? Yes, this is an amazing feature that was built-in with the latest update. Are you listening to a song you like and would like to share it with your friends? No problem, it can be done with just a few clicks.
● Offline Mode – This is definitely the most popular feature of Slacker Radio. With this app, you will be able to listen to numerous songs, and channels without having an internet connection. However, please note that this feature is only available for paid users. For those who don't like spending money on radio apps, everything is completely fine, because this app does not require a lot of internet bandwidth.
Conclusion
If you like our review and want to download this application, you can do so by clicking the download button located on this page. We always strive to provide the cleanest versions of every app uploaded on our website.