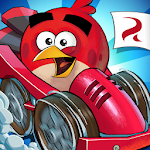 | | |
| --- | --- |
| Price: | Free |
| Version: | 291 |
| Author: | Rovio Entertainment Corporation |
Being completely different from the original game, Angry Birds Go presents a unique opportunity to face various racing challenges alongside your friends. This game supports multiplayer mode, which means that you will be able to compete with some of the most skilled players in the world. Angry Birds Go features four main gaming styles, speedway, stunt, rocky, and road. Each one of them contains uniquely designed maps. Angry Birds Go also has new characters that are present in each level of the game. Sign up for this game right now and have fun competing in difficult races.
Angry Birds Go is a free app that supports nearly all operating systems. It can be downloaded both from this page and Google Play/Apple Stores. Windows phone users also have the opportunity of acquiring this awesome game from the official Microsoft Store. Angry Birds Go maintains a high rating of 4.3 on the Google Play Store with more than 3.8 million unique user reviews. With more than 500 million downloads worldwide, this is one of the most popular games ever developed. This 3D game will let you experience a racing world on a whole another level.
Main Features
Crazy Characters – We have all gotten used to the characters that are featured in the Angry Birds' games. However, this one presents a whole new set of crazy characters. If you are thirsty for more, Angry Birds Go will definitely satisfy your taste. You have the opportunity to pick any character for each level and experiment with their skills. Please note that each character possesses a different set of abilities that can be implemented during the racing games.
Upgrades – Racing is no fun unless you upgrade your ride with different specs. You will be relieved to hear that you can do so simply by picking up different items and prizes. Upon starting the game, you will have the possibility to acquire different objects that give you unique powers. However, please remember that every player is gunning for these opportunities, so, you have to be the first at all times.
3D World – Forget about simple angry birds games, because Angry Birds Go presents a unique opportunity to experience a 3D world on a whole new level. Graphics are as good as they come, and you will be able to enjoy different effects after starting the race. The maps are uniquely designed, meaning that each level is packed with awesome items and upgrades.
Ads – Unfortunately, this game requires including a few ads here and there in order to continue functioning. However, you can purchase a pro plan and enjoy an ad-free experience. However, if you do not mind seeing a few commercials from time to time, you will get along with this game just fine.
Conclusion
Overall, Angry Birds Go is probably the most popular one out of all Angry Birds games. If you wish to acquire this game for free, please click the download button and follow the instructions. We always strive to upload the latest APK files for our users.