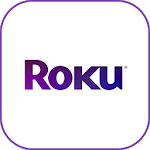 | | |
| --- | --- |
| Price: | Free |
| Version: | Varies by device |
| Author: | Roku Inc. |
Version:
Varies by device
Update
Roku has developed a Streaming Stick and made a discount offer to its users on Amazon. The usual price was $60, but in August the price dropped down to $40. If you wish to download the Roku app, go ahead and use the link provided on this page. There are other ways to download this app, like going to their official website or paying a visit to Google Play Store.
Brief
The Roku app easily controls any Roku TV or Roku player. You can stream and watch movies, play music and many more. All of these features are included in The Roku Channel. With over 10,000,000 downloads, the Roku app is rated as a 4.5 app on Google Store. Roku is free entertainment you can use to enjoy thousands of movies and TV shows.
Features
United States, United Kingdom, and Canda users have a new voice command feature added to their Roku Player.
Roku Player can be used as a second remote to control Roku TV or Roku Channel.
Streaming the latest movies on Roku Channel.
Listen privately while using headphones.
Search for your favorite actors, movies, and TV shows via voice command search.
Chromecast any movie or song to your TV.
Add and watch new channels on Roku TV.
Type anything in the Roku Channel using a regular keyboard.
Pros
Easy to use interface which never crashes.
High-level speed on all of your devices.
The ability to control multiple devices.
4K HD streaming movies available for watching.
A new feature which allows to Chromecast everything.
Cons
For some people, the Roku Channel is a bit overpriced.
Minor bugs in the front design.
Does not include a huge movie/tv show package like Netflix.
More
In order to use all features The Roku provides, you should definitely connect your device (be it a TV, tablet, or phone.) to Roku Channel and app. Some movies and TV shows require a paid subscription, meaning, you will have to pay at a certain point.
Netflix vs Roku
First, let's examine the features these apps are offering. Netflix has the largest database, is a much popular app in the entertainment category. However, as far as controls go, Roku is much easier to navigate and customize. Netflix trumps Roku in every category except interface. Another good point for Roku is that it's a lot cheaper than Netflix.
Conclusion
If you wish to get an app that lets you stream almost everything, Roku would be your choice. Packed with new features, the Roku app offers a wide range of enjoyable shows. You can use this app to stream, watch, and Chromecast any movie/TV show from their library.
The Roku app does not crash but has a few minor bugs yet to be fixed. Similar to Netflix, Roku offers 4K media files. Sadly, movies cannot be downloaded from Roku Channel.
If you have a Roku subscription plan, you definitely need to make your life easier by downloading the Roku app.