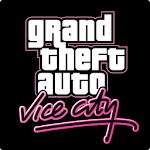 | | |
| --- | --- |
| Price: | $4.99 |
| Version: | |
| Author: | Rockstar Games |
Created by Rockstar Games in 2002, Vice City is one of the most popular Grand Theft Auto games ever created. Implementing simple, yet engaging graphics, Vice City becomes an addicting game for every new user. We all remember this game from our childhood. The freedom to walk around Vice City, fighting strangers, robbing clubs, and completing the missions is something all of us have experienced at one point in our lives. Now you have the ability to play this game on your mobile phone. It will bring the old joy of playing a Rockstar game right back.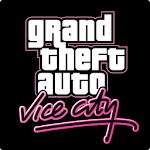 Grand Theft Auto: Vice City
Grand Theft Auto: Vice City is a completely awesome game that can be acquired both from this page and Apple/Android stores. Windows Phone users also have the opportunity of downloading this game by going to the official Microsoft Store. Vice City maintains a high rating of 4.3 on the Google Play Store with more than 157,000 unique user reviews. Please keep in mind that you will be required to pay a one-time fee of $4,99 in order to download this game. Five dollars is not a great deal of money and is definitely worth paying in order to enjoy a long-forgotten game.
Main Features
Complete Missions – You start out as a male character that goes around the city completing missions. The first few missions are pretty easy, however, everything gets harder as the game progresses. Some missions will require you to be armed, so, it is absolutely necessary to know some cheat codes. If you want to stay "legal" without cheating, you will have to do with the weapons that can be acquired by completing the missions. Some missions must be completed in single mode, but on others, you will be accompanied by your friends.
Unlock Cities – This game can be pretty boring if you do not complete the story missions in order to unlock new cities. New cities come with new houses, cars, and missions. You will also be able to unlock bridges that connect several cities together. If you have not completed a mission that unlocks a certain city, you can spend all day figuring out how to bypass the rules, but it simply cannot happen. You absolutely have to go along the main story in order to travel through different cities.
Have Fun – This game can be a lot of fun for people who don't lack imagination. You can enter your favorite cheat codes and rob different places in order to steal money. If you are feeling crazy enough, arm yourself and head to the police stations. Getting five stars on the "wanted" list is not something everyone can do.
Conclusion
All in all, Grand Theft Auto: Vice City is an awesome game that can be played on your mobile phone with better graphics. If you want to get started right now, please click the download button located on this page and you will be taken to an official store where you can complete the transaction.