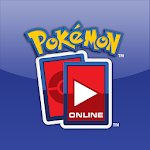 | | |
| --- | --- |
| Price: | Free |
| Version: | 2.62.0 |
| Author: | The Pokémon Company International |
Developed by Pokemon.com in 2011, Pokemon TCG Online is arguably the most popular pokemon game ever created. If you love pokemon and enjoy playing cards as well, you will definitely get addicted to this app. The gameplay is quite simple: You use different cards to compete with other players. These cards have a pokemon displayed on them, and each pokemon has a certain power measured in points. If you match your card with a stronger pokemon, you will be destroyed. However, if you manage to win at least one round, you will be awarded a lot of coins, which gives you the possibility to unlock more cards.
Pokemon TCG Online is a free app that supports both PC and phone operating systems. You can acquire this game for your Android, as well as the iOS device. Pokemon TCG Online is available for download both on this page and Apple/Google Play Stores. Windows Phone users also have the opportunity to get this game by going to the official Microsoft Store. Pokemon TCG Online maintains a high rating of 4.2 on the Google Play Store with more than 113,000 unique user reviews.
Main Features
Build Collections – After winning each round, you will be awarded a certain amount of coins. These coins can later be used for acquiring new pokemon cards. You also have the ability to trade cards with other players, depending on what you need. There are water, fire, earth, and wind collections. If you manage to complete at least one of them, you will unlock new pokemon and prizes. All of your cards will be stored in your Pokemon Trainer account, allowing you to switch between devices easily.
Trainer Mode – If you are new to this game, the Trainer Mode feature will definitely be useful for you. It's only logical to train before you head into the battles. Trainer Mode allows you to compete against computer-controlled players in order to make you a sharper player. Once you feel confident enough, jump onto the multiplayer mode, and face real-life opponents.
Versus & Tournament Modes – If you enjoy a one-on-one battle, choose versus mode and go up against some of the strongest players in the world. However, if this style of play does not attract you, feel free to enter the tournaments. Each tournament contains eight players that will be competing with each other for three rounds.
Customize Everything – Pokemon TCG Online gives you the ability to customize everything including decks, cards, and even your profile. Sure, some of the graphics are pretty outdated, and this is probably why you have so many options when it comes to customizing different items. All of this can be achieved by going to the settings menu.
Conclusion
All in all, Pokemon TCG Online is a pretty addicting game and must be played carefully. If you wish to get started right now, feel free to click the download button located on this page and follow the instructions. We always try to upload the latest APK files for our users.