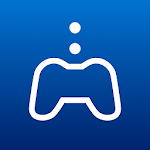 | | |
| --- | --- |
| Price: | Free |
| Version: | 3.0.0 |
| Author: | PlayStation Mobile Inc. |
PS4 Remote Play is an application that allows you to transmit video signals from your PS4 to your phone, laptop, or desktop computer. Truth be told, most people are using this software in order to play PS4 games on their personal computers, but as long as you have a wireless DualShock controller, you are free to play PS4 games on any device that is connected to the same internet network. Controlling PS4 games from another device is no simple task, but you will probably get used to this application in a few hours. This app is especially useful for people who are fed up with using PS4 as their gaming console.
PS4 Remote Play app was developed by Sony Interactive Entertainment and is being offered to the general public for free. You can get this app both from this page and Apple/Google Play stores. PS4 Remote Play maintains an average rating of 3.2 on the Google Play Store with more than 66,000 unique user reviews. We were curious about such low ratings and took the liberty of conducting a little research. After skimming through the reviews, we found that this app still contains a lot of bugs that need to be fixed.
Main Features
Screen Display – Let's step away from personal computers and take a look at the mobile display. PS4 Remote Play gives you the full picture of your PS4 that can be displayed on your mobile phone screen. Everything is displayed accurately, which means that all of your games and account settings will still be there. Of course, you are free to play games, edit account settings, or even join chats and talk to your friends.
Controller Buttons – It's simply impossible to control your PS4 with your phone. In order to solve this problem, the PS4 Remote Play app displays PS4 control buttons on your mobile screen. These are just regular, old-fashioned buttons you are using on your Dualshock controller. Each button performs the exact same function, meaning you will not be lost in the functions.
Join Chats – This application is mainly used to have conversations with other players. Being a part of ongoing chat is a pretty regular thing for all PS4 players. Needless to say, this application also supports this feature. Granted, it is a little bit tricky to get a hang of the controls on the first try, but you will get used to this in a few minutes.
Enter Text – This is probably the most useful feature of this application. We all know that typing on PS4 with a Dualshock controller is a pain and requires a lot of time. Now you will be able to have conversations straight from your phone. Forget typing letter by letter and use your phone's keyboard in order to type any word in seconds.
Conclusion
All in all, the PS4 Remote Play app is a must-have tool for any gamer. If you still have not downloaded this amazing application, you can do so by clicking the download button located on this page. We always strive to upload the latest APK files for our users.