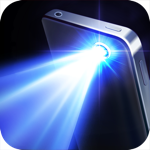 | | |
| --- | --- |
| Price: | Free |
| Version: | 8.10.5 |
| Author: | Lighthouse, Inc. |
It's pretty hard to beat a regular, old-fashioned flashlight, but this application works wonders when the darkness comes. With the super bright LED features you can light up any dark room in the split of a second. This Flashlight application includes features like blinking, customized colors, and even Morse code. Yes, you heard me right, you can send the Morse symbols while using this app, if you know how to operate the Morse codes, of course. Sign up for this app right now and let your phone be a beacon of light when the power goes out.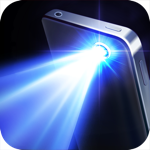 Flashlight
The Flashlight app is completely free for anyone to use. It supports both iOS and Android mobile operating systems. You can download the Flashlight app both from this page and Apple/Google Play stores. Windows phone users also have the opportunity of downloading this app by going to the official Microsoft Store. Flashlight maintains a high rating of 4.4 on the Google Play Store with more than 280,000 unique user reviews. We skimmed through the comments, and we were unable to find the instances where users reported heavy bugs or major freezes. The Flashlight app is safe for anyone to use.
Main Features
LED Flashlight – We all know that each modern phone has a built-in flashlight software, but do they perform as advertised? Well, if you are not really fond of your flashlight app, simply delete and replace it with a new one. This application tends to max out your phone's battery power, providing you with the brightest light possible.
Customized Colors – I do not know about you, but I am getting pretty tired of the regular, old-fashioned white flashlight. It's now possible to change your flashlight's colors with just a single tap on your phone screen. Choose red, green, yellow, light blue, and even purple colors to light up dark rooms. Did you know that yellow and light blue colors can light the dark even better than a regular white flash?
Morse Code – If you are ever in trouble, keep in mind that you can send the Morse code signals with this app. You do not have to know everything about the Morse code, because this application has an SOS message included. You can use this feature whenever you feel like it.
Compass – Once again, if you ever feel lost, do not hesitate to use this application. It has a built-in compass that will guide you through uncharted territories at all times. This option comes as a built-in feature that is completely free.
No ads – The best thing about this app is that it does not contain any ads. You will be able to enjoy an ad-free experience 24/7.
Conclusion
All in all, the Flashlight app is a handy tool for every phone user. If you still have not acquired this amazing app, you can do so by clicking the download button located on this page and following the instructions. We always strive to upload the cleanest and safest APK files for our users.