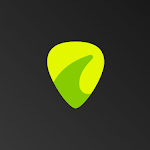 | | |
| --- | --- |
| Price: | Free |
| Version: | 4.0.7 |
| Author: | Yousician Ltd. |
Being one of the most popular tuning apps in the world, Guitar Tuna will let you access all popular string instruments. This app has already been downloaded more than 100 million times and is being used by millions of people on a daily basis.
Guitar Tuna is a free app that can be downloaded both from this page and Apple/Google Play Stores. It maintains a high rating of 4.8 with more than 1.8 million reviews. We have skimmed through the comments, and it is safe to say that this app is universally loved by all of its users.
Main Features
Simple To Use – Some people might think such an app must be a pain to use. Quite the opposite, you will get a grasp of this application in a few hours, if not minutes. The learning process will greatly depend on how familiar you are with the instrument itself. Needless to say, the Guitar Tuna app works with both electronic, and acoustic guitars, making it one of the most complete apps in the music category.
Perfect For Beginners – Given the fact that this application was designed for people who are just starting out, anyone can learn their way around the Guitar Tuna app pretty easily. It comes with a built-in microphone and does not require any cables in order to function perfectly. This app is heavily recommended by Guitar teachers, if you don't believe us, hop on the Google Play Store and see what the users are saying.
Signal History – This is probably the best feature of this app. It provides a pretty neat signal history with accurate points for users to understand. You will also be able to access visual feedback of your plays, making it easier to spot mistakes and get better when it comes to overall performance.
Metronome – This is an advanced feature used by professionals. You can set up just about any tempo, and change the given beat manually by tapping at a certain speed. If you are a beginner, it would be wise to stay away from this feature before you get a hold of other options.
Chord Learning Games – There are several chord learning games that help you learn, and master chords in a short period of time. This feature is user-friendly, meaning all beginners will be able to participate without feeling lost.
Conclusion
If you are a guitar pro or just a beginner, it would make a lot of sense for you to have this app on your phone. However, please be advised that the Guitar Tuna app contains a lot of advanced features beginners should stay away from. However, do not let it discourage you, everything comes with practice.
If you wish to download this application right now, click the download button located on this page. Other ways you can get the Guitar Tuna app is to visit the app store which supports your operating system. However, we always strive to provide the cleanest APK files for our users, so, feel free to download it straight from this page.