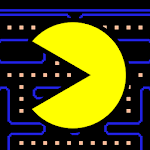 | | |
| --- | --- |
| Price: | Free |
| Version: | 8.0.3 |
| Author: | BANDAI NAMCO Entertainment America Inc. |
Pac-Man probably needs no introductions, but we will tell you that this game is one of the most popular arcade apps in the world. Simply install the game, eat lots of fruits, and try to get away from the ghosts to get high scores. The gameplay can be both enjoying, and frustrating, it all depends on how well you will adjust to the flow. Download this app right now from this page, get the latest updates, and enjoy the simple, yet amazing gameplay of Pac-Man.
Pac-Man is a free game app that can be downloaded both from this page, and Google Play/Apple stores. It maintains a high rating of 4.0 on Google Play Store with more than 840,000 user reviews. We have skimmed through the comments and found that most users are enjoying this game on a daily basis. Pac-Man has already been downloaded more than 100 million times, making it one of the most popular games in the arcade category.
Main Features
Four ghosts – There are only 4 ghosts in this game that you need to get away from. Be careful with each one of them, and try to keep away. If you fail to do this, you will get eaten, and your score will be rendered as zero.
Eat ghosts – Needless to say, you must keep your distance when it comes to ghosts, however, there is one scenario where you are actually able to eat ghosts and accumulate points. If you power up during the game, it will allow you to chase down ghosts, and eat them. However, be careful, if your powers drain while chasing the ghosts, you might be in big trouble.
Ghost patterns – There is always a pattern each ghost follows during the gameplay. If you are smarter than most, figuring out each of the ghost's patterns is a piece of cake. If you manage to do this quickly, points will shoot through the roof. So, always try to keep track of not only your character but the ghosts as well.
New mazes – The last update rolled out new features that added awesome mazes in the game. Some of these mazes are a pain, but getting used to them is actually the fun part. If you manage to get everything right, you will be unstoppable.
Tournaments – There are different tournaments that allow you to compete with other players to get more points. However, keep in mind that these players are alive and thinking, making it harder for you to compete with them. If you manage to beat them all, there are awesome prizes waiting for you at the end of every tournament.
Challenge friends – This game is so much more enjoyable when you're playing it with friends. The Pac-Man game allows you to invite your friends, and play with them in the same room. Another good thing is that you can host a tournament with up to 10 players.
Conclusion
Overall, Pac-Man is an enjoyable game played by millions of users. If you wish to download the latest APK of this game, click the download button located on this page to get started.