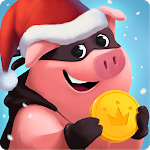 | | |
| --- | --- |
| Price: | Free |
| Version: | 35211 |
| Author: | Moon Active |
Coin Master is one of the most popular spinning games ever developed. It lets you travel through amazing lands, collect coins, build villages, and explore new worlds. The game process is pretty straightforward: When you start, you are given a certain amount of coins. These coins can be used to build different items in your village. However, you will need to collect a lot of spins in order to spin the wheel constantly. There are different prizes that come from the spinning wheel, some of these include coins, village attacks, village robberies, and more.
Coin Master is a free app that supports both iOS and Android operating systems. Windows Phone users also have the opportunity to use this app by going to the official Microsoft Store. Coin Master maintains a high rating of 4.3 on the Google Play Store with more than 4.7 million unique user reviews. With more than 500 million downloads worldwide, Coin Master is arguably the most popular spinning game ever created. Coming from someone who plays this game on a daily basis, I can assure you that Coin Master does not have any bugs or major fixes. Furthermore, this app is completely safe for you to download.
Main Features
Complete Villages – The rating of each user is determined in stars. These stars accumulate after completing each level. However, in order to move to the next village, you will need to max out all five items in your current village. In order to do that, you will be required to spend a lot of coins. Please also note that villages get more expensive to complete as the game progresses. But, the good news is that there is a prize awaiting you after completing each village.
Accumulate Coins – There are two main ways to accumulate a lot of coins. The first one is called robbing the villages. If you are fortunate enough to catch three "Pigs" on a spinning wheel, you will be given the possibility to rob your friend's village. You will be able to steal a certain amount of coins, depending on how much money they have currently. The second way to accumulate coins is to attack villages. If you catch three "Thor's Hammers" on a spinning wheel, you will be able to attack a certain village. After destroying one of the items, you will be given a certain amount of coins.
Gifts – Granted, there are a lot of in-app purchases included in this game, but you will also be given lots of gifts on a daily basis. If you log in to the game on a regular basis, the prizes will get bigger with each passing day. Try to log into the game at least once a day, even if you do not feel like playing. This way, you will not miss out on any of the daily gifts.
Conclusion
All in all, the Coin Master game is a perfect tool to pass some free time. However, it can be highly addicting, so, be careful while playing this game. In order to acquire a clean APK version of Coin Master, please click the download button located on this page.