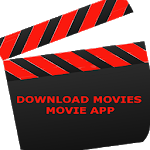 | | |
| --- | --- |
| Price: | Free |
| Version: | 7.0 |
| Author: | Ginoappy |
Developed in 2017, the app called "Download Movies" is one of the most popular applications used for downloading movies for free. Please note that this is illegal in some countries, so check your laws before attempting such actions. However, most people need not worry, because this is a third-party app that cannot be traced. With that being said, the Download Movies app gives you a unique possibility to acquire some of the most popular movies for free. It implements a torrent-like engine that is searchable with keywords. You can find just about any movie with this app's help.
Download Movies is a third-party app that can be downloaded straight from this page. It is also featured on Google Play and maintains a low rating of 2.9 with 11,000 unique user reviews. Most negative reviews come from people who are offended by the fact that this app lets people download movies for free. However, if you do not have such moral codes, you are free to click the download button right now in order to get started.
Main Features
Movies & TV Shows – The app name only mentions movies, but there is so much more than that included in this app. You will also be able to browse through some of the most popular TV shows ever created. Simply type a keyword in the search bar and see the results instantly. The downloading process is as simple as it gets. Judging by the fact that the Download Movies app has its own servers, downloads can begin with a simple click.
Pause/Cancel/Resume – This app implements torrent-like features that enable you to pause/resume/cancel any download at any time. For example, if you have started downloading a large-sized media file and have to go out for quite some time, you can pause the download process in order to save some of your precious internet data. You are also free to resume the download process after you come back. Don't worry, it will not start downloading the file from scratch.
Simple Design – This app features a user-friendly design that is pretty easy to get used to. Upon opening the app you will see a homepage, a couple of widgets, a search bar, and header navigation that will allow you to jump to any category within seconds. If you wish to make your browsing experience simple, you can sort the movies by genres by going to the "Categories" field.
Ads – Sadly, in order to keep this app working, the official team included quite a few ads into this software. But it is all fine if you do not mind seeing a few pop-up ads along the way. Also, remember that the only time you will be visiting this app is when trying to download media files.
Conclusion
All in all, the Download Movies app is a great source for acquiring large-sized media files for free. In order to get started right now, please click the download button located on this page. We always strive to upload the latest APK files for our users.