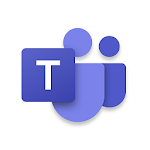 | | |
| --- | --- |
| Price: | Free |
| Version: | Varies by device |
| Author: | Microsoft Corporation |
Version:
Varies by device
Update
Advanced Communications feature has been added to Microsoft Teams.
Microsoft Teams can now offer huge meetings that can contain up to 20,000 participants. However, these users are limited to the view-only program. If you wish to participate, you will have to be one of 1,000 people, because Microsoft Teams cannot do more than that.
Many users reported that they want to see more than 4 users on the screen at a time. Microsoft has responded to this offer and now we are able to see up to 9 people on the screen. This update was done pretty quickly as Microsoft teams tend to resolve such issues pretty quickly.
Last Update
Live captions are added to every video or audio stream.
We can now add music if the caller is on hold.
Newly developed features like vibration notifications and tone alerts are tools that became very popular lately. This is a great feature for large companies that manage a lot of conference calls. It has become even more useful because of the Corona pandemic. Just as you are reading this, teams surpassed the 50 million user threshold.
Another great feature added is Skype integration. Now both Skype and Microsoft Teams users can call, text, or share videos with each other. This tool has been the biggest reason for Microsoft Teams' fast popularity growth.
Features
File sharing and editing made easy. You can now manage and edit your or your teams' projects live.
Connect via high definition streams that include audio/ video calls and text messages.
Private group chatting is another big thing. Not all messages are made public.
Tag certain individuals or the whole group at once, get their attention instantly.
Make notes and focus on the most important details with auto-saving features.
Enjoy the top-notch security Microsoft Teams provides.
Pros
The app itself can be customized fully and easily.
The app can be integrated with other Microsoft software.
The app can be used to create and connect multiple groups at once.
Cons
The app can only be used in a Microsoft software environment.
The app has a professional design that is not considered user-friendly by certain individuals.
How to download and use Microsoft Teams?
1. Go to Google Play or an official link https://www.microsoft.com/en-us/microsoft-365/microsoft-teams/download-app
2. Press download and open a .exe file (if you are using your PC)
3. Wait for the installation to complete
4. Sign in with your account (or sign up, if you do not have one)
5. Enjoy the smooth group chatting experience.
F.A.Q
Are my conversations recorded and used by third-parties?
- Absolutely not, Microsoft Teams does not store any users' data.
Can I use this tool if I don't have a Microsoft account?
- Sadly, no. You absolutely need to have a Microsoft account in order to sign in.
Can I record my own conversations without them being used by someone else?
- Of course, you have full authority over your recordings.