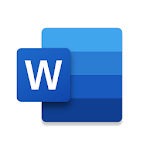 | | |
| --- | --- |
| Price: | Free |
| Version: | 16.0.13127.20162 |
| Author: | Microsoft Corporation |
Version:
16.0.13127.20162
Update
Microsoft Word developed a new feature called "Transcribe", which allows you to speak words in the document, literally. Seriously, no more typing, just speak the words, and Microsoft Word will do the rest for you. You will be able to find the button which opens this feature in the top right corner of the app. The only thing you need to make full use of this feature is a microphone.
Brief
Microsoft Word is a simple word processing software. It was developed by Richard Brodie back in 1983 for IBM computer's operating system. A similar version was also running on Macintosh in 1984. This application became an official member of the Microsoft Office in 1989, after being acquired by Microsoft.
Microsoft Word provides creating, editing, and viewing functions to all users. Everyone can make a beautiful looking document with this application. However, Microsoft Word is mainly used by writers and editors. This app is most popular for office work due to its editing features. You can edit any document that has been written in the Microsoft Word format, saving you the trouble to re-write the whole document by hand.
Main Features
● Create, View, and Edit – As already mentioned above, Microsoft Word gives you the power to create brand new documents, edit the old ones, and view them in seconds. Needless to say, all of these features are free and there are no annoying ads or in-app purchases.
● Easy Navigation – Microsoft Word features a simple design. The main features like font, size, layout, and paragraphs can be accessed straight from the main page. Other features are a little bit harder to find, but everything can be picked up in a few minutes.
● Saving The Changes – I'm sure there are instances when you forget to save your document by hand, or maybe lights went out. In such situations, Microsoft Word takes it upon itself to save the document automatically. Even more, the changes are saved after written each word, or paragraph, making it impossible for you to lose your work.
● Phone Reading – Microsoft Word has a nice application developed for users. It's never been easier to open, view, and edit documents from mobile phones. In order to unlock the full features of this app, click the download button on this page and get started.
● Pick Up Where You Left Off – Are you too lazy to finish an article? No worries, just click the exit button, and save your progress automatically. Microsoft Word will not make any changes to your file unless you edit something by hand.
● Easy Access – If you are a paid Microsoft user, you will have the advantage to save your files in the cloud. Microsoft offers a charge-free service of file backups, making it impossible for you to lose any of your files.
Conclusion
Microsoft Word needs no introduction, we all know this software pretty well. However, not all users are using the application version, and that is a shame. Click the download button on this page to get the cleanest version of Microsoft Office Mobile.