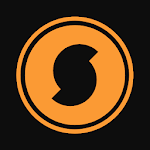 | | |
| --- | --- |
| Price: | Free |
| Version: | 8.9.11 |
| Author: | SoundHound Inc. |
SoundHound app makes it easier for you to search for, discover, and play music in just a matter of seconds. Are you too lazy to type every song's name you want to listen to? Well, so am I, and this is exactly why I love SoundHound's voice search. Just say "OK Hound…" and enjoy the hands-free searching experience this app has to offer you.
This is an example of how you can play a certain song on SoundHound:
"OK Hound, play Justin Timberlake's most popular music video"
"OK Hound, Play Britney Spears' Baby One More Time"
This is how you can add songs to Spotify playlist:
"OK Hound, add Through With You to my Spotify Playlist"
"OK Hound, add Without You to my Spotify Playlist"
You can even use SoundHound as a music recognition tool
"OK Hound, what is this song?"
Just open up the SoundHound app, tap the big orange button, and look for any song you like.
Did you know that SoundHound not only packs features like song recognition and music playing, but it offers you live lyrics, music videos, music streaming, playback, and many other features? With this app, all of these options are united into one small application that does all of this for you.
SoundHound also offers you a music news feed, from which you can discover top weekly or monthly music videos, popular songs, and artists. Go to the news feed and find out what kind of music people are listening to, find trending songs, and play them back if necessary.
SoundHound is a must-have tool for music lovers. If you still doubt its greatness, just click the download button on this page and experience all of its features first-hand.
Another great thing about SoundHound is that it implements music features from different apps like Pandora Radio, Apple/Spotify Music, Google Play, etc. Your options are unlimited and most importantly – they are free.
Pros
User-friendly interface – SoundHound app offers its users a simple design. The interface is pretty light, meaning this app can function highly even on old, outdated phones.
Quick music searching – I'm sure you've tried numerous music searching apps up till now. Truth be told, some of them are pretty slow. On the other hand, SoundHound only needs a few seconds in order to recognize a specific song.
Free – Probably the best thing about SoundHound. Granted, there are ads and in-app purchases included in this application, but most of the features are free for everybody.
Cons
Minor bugs – Some phones are outdated, meaning they do not have the latest Android or iOS system. This means that people with old phones cannot install the latest SoundHound version. This in itself is not a con, but, of course, everyone would like to use the newest version.
Conclusion
SoundHound is a perfect tool for everyday use if you are a music lover. Click the download button on this page and let the SoundHound app discover new trending songs for you. We are sure you'll be more than satisfied.