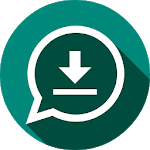 | | |
| --- | --- |
| Price: | Free |
| Version: | 4.25.44 |
| Author: | LaZy GeNiOuZ InC. |
Status Saver is an app that lets you save WhatsApp statuses with one click. This application was launched just a few years ago and has been growing in popularity ever since. You can acquire Status Saver both from this page, and Google Play/Apple stores.
The Status Saver app is free and can be downloaded straight from this page by clicking the download button. It maintains a high rating of 4.4 on Google Play Store with almost 600,000 user reviews. We took the liberty of conducting a little research, and after skimming through the reviews, we have found no instances where users reported heavy bugs or data theft. This means that the Status Saver app is completely safe to use.
How to use the Status Save app?
1 . See a post/status you like?
2 . Open the Status Saver
3 . Click on any given status (be it a video, photo, or text)
4 . Press on the status, and click the "Save" button
Main Features
Multi-Save – The Status Saver app lets you save lots of statuses in one go. Meaning, you will not have to click on each preferred status in order to download a whole bunch of posts.
Multi-Delete – Similar to the saving function, the Status Saver app also lets you delete all your saved statuses with a few taps. No more going through the images, and deleting them separately.
Repost – Now, there are two options to repost your preferred status. You can save it, upload it again, and repost it like this, or click the repost button, and the status will be automatically reposted even without storing it on your phone.
File Support – The Status Saver app supports Image Viewer and Media Player. Meaning, you will have no trouble opening a media file, be it a .mp3, .mp4, and so forth.
Simple Navigation – The Status Saver app features only a few tabs, which are pretty easy to get to. The main "Statuses" category lets you view different statuses posted by your friends, and the "Saved" button will let you access all the statuses that have been saved on your mobile phone.
Note: Please note that re-uploading other people's statuses may lead to copyright issues. Respectfully, all users must refrain from such activities.
Conclusion
If you are a WhatsApp daily user, you surely must come across many wonderful posts, and if you would like to save them with just a few taps, the Status Saver app is definitely for you. However, you must use this app for solely saving different pictures, and videos for personal use only. Otherwise, you might get reported to the DMCA for copyright issues. Please do your best to refrain from such activities.
If you would like to download this app right now, you can use the links that are provided above in order to get started. We always try to provide the cleanest APK files for our users, and needless to say, each and every file is scanned for viruses before uploading.