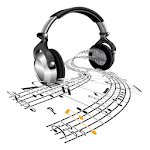 | | |
| --- | --- |
| Price: | Free |
| Version: | 1.1.60 |
| Author: | Outly LTD. |
The Download MP3 Music app lets you listen to, and download millions of songs from its verified database. Make no mistake, it is no simple, third-party app, every song and artist on this application is verified, and legal. That being said, you will be able to enjoy your favorite music for free on a daily basis. Get this app right now, and be rid of the need to use the Youtube app every time you want to listen to a song.
This application is quite popular on all stores and supports both iOS and Android devices. It maintains a high rating of 4.1 on Google Play Store with more than 840,000 reviews. We have skimmed through the comments, and most of the users are quite fond of this app, and use it on a daily basis to listen to their favorite songs.
Main Features
Listening is free – It goes without saying, but some users were expecting too many ads, and in-app purchases after installing this app. Let me start off by saying that there are some ads, but no in-app purchases, which makes the application completely free. You can listen to millions of songs without paying a dime.
Downloading is free – If listening is free, downloading should be a premium feature, right? Well, not really, you can download a limitless amount of songs from the Download MP3 Music app for free. Be it 10, 100, or even 1000, downloading songs will never cost you anything.
Search algorithm – The search algorithm of this application rivals Youtube. Well, that might be an exaggeration, but the search bar does work quite well. You will be able to find your favorite songs and artists in seconds by simply typing keywords in the search bar.
All genres – This app has music from all genres. Be it hip-hop, rock, metal, or simply pop, the Download MP3 Music app has got it all. Of course, you will be able to browse through the genres and sort the music this way. You can even set your favorite genres, and get the most targeted recommendations.
Verified content – Please note that all of the content provided by this app is completely legal to listen to, and even download. Some people are mistakenly commenting that this app is a fraud, but we have checked a few times, and all songs and artists are completely verified, and legal. Do not worry when listening to, or downloading songs from the MP3 Download Music app, it's completely safe.
Lyrics – Do you like to sing along with your favorite songs, but have a hard time remembering the lyrics? In order to solve this problem, the MP3 Download Music app added lyrics to each of their songs, which means you will be able to read a nicely designed text lyric while listening to your favorite artist.
Conclusion
If you are a music lover and would like to download songs for free, the MP3 Download Music app is definitely for you. Simply click the download button located on this page to get started.