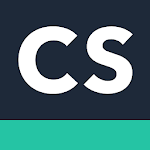 | | |
| --- | --- |
| Price: | Free |
| Version: | 5.29.0.20201119 |
| Author: | INTSIG Information Co.,Ltd |
Are you in need of a PDF scanner that will make the document scanning process easier? Well, you are in luck, because the CamScanner app does a perfect job of scanning files, and turning them into PDF documents. To be more precise, upon installing this awesome app, you will be given the possibility to scan numerous images and turn them into PDF files with just a few taps.
CamScanner is a free app that can be downloaded from this page. It's also featured on Google Play and Apple stores. The CamScanner app maintains a high rating of 4.4 with more than 3 million user reviews. This app has already been downloaded by more than 100 million users.
Main Features
Digitalize documents – The only thing you need to do in order to get a digital version of a paper document is to point the camera at it while using the CamScanner app. It will take a screenshot, and convert the image to a PDF file. You can digitalize receipts, prescriptions, legal documents, and so forth with the CamScanner app.
Optimize the scan quality – This application has cropping features, making it easy for you to get a precise scan. The CamScanner app also lets you adjust the quality of the scanned documents, which means you will be able to adjust resolutions, and colors. This way, you will no longer have to worry about blurry images and half-scanned documents.
Extract any text from images – The OCR feature which stands for optical character recognition is a feature that allows the app to extract any text precisely from a given document. This feature is often turned images that contain text into PDF files. Of course, this feature is free and does not require you to pay anything.
Share files – Sharing files is another important feature presented by the CamScanner app. You are able to export files in different formats, and send them to your friends. The sharing functions support email, and social media sharing, as well as SMS/MMS.
AirPrint support – AirPrint is a printing software developed for iOS devices. If you are an iOS user, pairing the CamScanner with the AirPrint software will be a piece of cake. This way you will be able to transfer files between this two software without any trouble.
Quick Search – If you are using this software, chances are you already have hundreds, if not thousands of documents scanned. Finding a certain document in the sea of files is never easy. In order to solve this problem, you can categorize the files with tags, and save them in different folders.
Passcode protection – If you have scanned documents that contain sensitive data, it would be terrible if third parties somehow gained access to it. In order to prevent this, you can set a passcode for each document from within the CamScanner app.
Conclusion
If you are in need of scanning files or extracting texts from images, the CamScanner app is your best bet. Click the download button located on this page in order to get started.