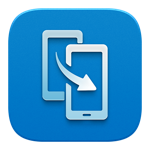 | | |
| --- | --- |
| Price: | Free |
| Version: | 10.0.1.550 |
| Author: | Huawei Internet Services |
The Phone Clone app is a software developed by Huawei that lets you migrate all of your data between unlimited devices. It does not matter if you are using a Huawei device or not, you will still be able to use all of its features as long as you have the app installed. Simply install this app, and transfer your contacts, music, videos, large media files, and so forth. There are no size limits in this app, letting you transfer all of your content freely.
The Phone Clone app is free and can be downloaded from both this page and Google Play Store. It maintains a high rating of 4.2 with more than 80,000 reviews. If you want to get the latest APK version of this app, simply click the download button located on this page.
Main Features
iOS and Android support – You might think that this app supports transfers between Android devices, but you would be wrong. For example, you can transfer data from an iPhone to your Android phone, and vice versa. Furthermore, there are no size limits, meaning you will be able to transfer everything between two phones that are supported by different operating systems.
Fast speed – We have tested this app between lots of phones, and the transfer speed is amazing each time. For large media files, it only takes a minute to transfer 1GB of data. 1 minute may sound a lot when we put it like this, but how about transferring a high-quality movie in 2 minutes?
Support for all files – It does not matter what type of file you are trying to transfer, the Phone Clone app has support for it. Be it contacts, SMS, MMS, music, or video, Phone Clone supports transfer for anything.
No backup support – Please note that this app does not backup files, meaning if something were to happen during the transfer, your data will be lost. In order to avoid such a thing, please make your own backup on another device, or even on your phone. It's better to be safe than sorry.
No support for older Androids – Please also note that your phone must have an operating system of Android 4.4 or higher to use this app. However, don't worry, almost all new phones use Android 9.0, or higher nowadays.
Conclusion
If you have a lot of files on your phone and are planning to switch to a new device, you are going to need an app like Phone Clone. In order to get the clean APK of this app, simply click the download button on this page.
User Reviews
"This app has saved my butt a lot of times. I am a photographer, and always move large-sized pictures from one phone to another. I like that this application supports both iOS and Android. I can now transfer all of my files between my iPhones, and Android phones. Many thanks to the developer team for creating such an amazing app, I will definitely keep using it for the foreseeable feature."