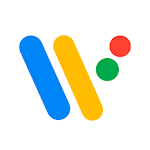 | | |
| --- | --- |
| Price: | Free |
| Version: | 2.39.0.324131225.gms |
| Author: | Google LLC |
Version:
2.39.0.324131225.gms
Android Wear is an app that lets you connect, and control all of your Android devices with a few taps. It helps you connect with smartwatches, and control your phone's features from both devices. The Android Wear app is very popular with Google users and is being used on a daily basis by millions of people.
Android Wear is a free app and can be downloaded both from this page and Google Play Store. It maintains a high rating of 4.7 with more than 1 million user reviews. We took the liberty of skimming through the comments, and have found no instances where users reported heavy bugs or poor data transmission.
Main Features
Voice commands – This is probably one of the best features Android Wear has to offer. Once you are connected to your device, let's say a smartwatch, just say the words "OK, Google", follow up with simple commands, and let the application do the rest for you. The Android Wear app does a perfect job of pairing with other Google products such as Google Assistant, and so forth.
Information flow – If you are wondering about some of your phone's features, and cannot seem to find them, simply use the voice search commands to do the job. The Android Wear will let you control your phone with simple word codes, which, of course, is integrated with the Google Assistant.
Health apps – The Android Wear app is mostly used to transmit data from between your phone, and health apps. Let's say you bought a new smartwatch, and are in need of pairing it with your phone. This is where the Android Wear app comes into play. It does not only let you pair two devices but also transmits all the data between them.
Location services – No more looking at your phone every few minutes to find a certain location. Use the Google Assistant, and the Android Wear app to find nearby places easily. Simply allow this app to access your phone's GPS signal, and use voice commands to find the shortest route to your destination.
Simple design – The Android Wear app is very easy to get used to. In all its essence, it is not even a functioning app by itself. If you do not connect it with other apps, or devices, the Android Wear app does nothing. However, if you pair it with your SmartWatch, the possibilities are endless. This is why we say that the interface is very easy to get used to.
Conclusion
Overall, the Android Wear app is simply too good of comfort to pass on. You will be able to do multiple things like measuring health options, calculating routes, and following your workout on a daily basis all at once. Android Wear is a must-have tool for all Google users. If you still somehow have not downloaded this app up till now, simply click the download button located on this page to get started.