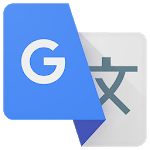 | | |
| --- | --- |
| Price: | Free |
| Version: | 6.14.0.04.343003216 |
| Author: | Google LLC |
About Google Translate
Version:
6.14.0.04.343003216
Updates
The latest version of the Google Translate app includes a number of new features and improvements, including:
33 new languages for offline use: You can now translate to and from 33 new languages without an internet connection.
Improved camera translation: The camera translation feature now works better in low-light conditions and with more complex text.
New conversation mode: The conversation mode makes it easier to have natural conversations with people who speak other languages.
New accessibility features: The Google Translate app now has a number of new accessibility features, including support for screen readers and high contrast mode.
The Google Translate app will let you translate texts into 105 different languages. It's by far the most popular translating app in all categories. The Google Translate app is downloaded by more than 100 million users and is used on a daily basis. Google Translate uses an artificial intelligence algorithm, which learns from recent translations, making the whole process more precise.
The Google Translate app is available for download both on this page and Google Play/Apple stores. It maintains a high rating of 4.5 on Google Play Store and is reviewed by more than 7.3 million users. We have skimmed through the comments, and most of the users are very happy with this app.
Supported Languages
Afrikaans, Albanian, Arabic, Armenian, Azerbaijani, Basque, Belarusian, Bengali, Bosnian, Bulgarian, Catalan, Cebuano, Chichewa, Chinese (Simplified), Chinese (Traditional), Croatian, Czech, Danish, Dutch, English, Esperanto, Estonian, Filipino, Finnish, French, Galician, Georgian, German, Greek, Gujarati, Haitian Creole, Hausa, Hebrew, Hindi, Hmong, Hungarian, Icelandic, Igbo, Indonesian, Irish, Italian, Japanese, Javanese, Kannada, Kazakh, Khmer, Korean, Lao, Latin, Latvian, Lithuanian, Macedonian, Malagasy, Malay, Malayalam, Maltese, Maori, Marathi, Mongolian, Myanmar (Burmese), Nepali, Norwegian, Persian, Polish, Portuguese, Punjabi, Romanian, Russian, Serbian, Sesotho, Sinhala, Slovak, Slovenian, Somali, Spanish, Sundanese, Swahili, Swedish, Tajik, Tamil, Telugu, Thai, Turkish, Ukrainian, Urdu, Uzbek, Vietnamese, Welsh, Yiddish, Yoruba, Zulu
Main Features
●Camera translation – Now you can use your camera to translate the texts instantly. This process is pretty simple, the only thing you need to do is point the camera at the desired text, and let Google Translate do the rest for you.
●Automatic speech translation – Another awesome feature presented by the Google Translate app. You can now speak into the microphone, and this app will translate the words into any desired language.
●Offline translation – Did you know that you can translate anything without being online? Well, now you can, but in order to do that, you need to download the language packs. For example, if you wish to translate from English to Spanish, you need to have both Spanish and English language packs downloaded.
●Save translations – The Google Translation app lets you save every translation for future references. Who knows, they may come in handy at a later time, or you might not have access to the internet. These translations can be stored both on mobile phones, and desktop computers. Needless to say, all devices are supported to open saved translations.
User Reviews
"I'm somewhat lazy and have been using Google Translate for my studies. Truth be told, it is not 100% precise in every language, but most of the translations are at least 70% accurate, which is a big help. Many thanks to the Google team."
"I have been browsing a lot of Chinese websites lately, and the Google Translate plugin has helped me greatly. I can't begin to imagine what I would do on the Taobao website if I did not have this app installed. Not only the websites though, but it also helps me translate huge chunks of texts as well."