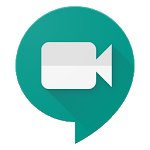 | | |
| --- | --- |
| Price: | Free |
| Version: | Varies by device |
| Author: | Google LLC |
Version:
Varies by device
Update
We all know Google Meet has been competing with its biggest rival Zoom. To attract more users, Google has made its application free for all people around the world. That being said, Google Meet is the toughest competitor and the best alternative to a previously mentioned app Zoom.
Google finally added Chromecast integration in Google Meet, meaning you will be able to watch your group chats on a bigger screen (TV for example). Very simple, smooth, and sharp image and video sharing by Google allows you to speak to multiple users at once without any sound or HD video loss.
Google took it upon itself to release a new sound-canceling tool in Google Meet for both android and iOS users. However, this feature is limited to users who are in possession of Google Suite or Google Suite Enterprise.
This feature was precisely designed to filter out sounds that don't look like human voices. For example, if you are in a group chat and a member of your party is listening to TV or some other distracting noise, these unnecessary sounds will be filtered out immediately.
This feature is especially useful for students and college attendees. Teachers also have come to appreciate the precise functionality of Google's new tool. Now the conferences can continue without additional noises bothering people.
Google Meet is a free tool developed by Google LLC. With the newest version of 44.5.324814572, the sound filtering feature was integrated onto the platform.
The average user rating on Google Play Store is 4,3 with more than 700,000 reviews. Installing this app is just as easy as any other. You can simply hop on the G store and install it from there, or use the browser version provided at this link https://meet.google.com.
Features
HD video group chats that can "accommodate" 250 users.
Live captions provided by Google speech.
Simple link sharing to let other users join your chat room.
The ability to connect to any phone and number internationally.
Pros
High Definition video and quality audio streaming.
Up to 250 users can join a single chat.
The cloud-based app that never crashes.
Live captions.
Filtered noises and sounds.
Cons
You need to have a Gmail account in order to access Google Meet chats.
You might get dropped (or your sound might drop) while chatting with 250 people at once.
The app restricts users from adding back group members. There is no option to turn on this feature yet.
It's pretty difficult to send files or any other media to a group chat during the ongoing conference.
Conclusion
All apps have bugs, but Google has considerably less of them compared to other applications. Zoom and Google Meet are definitely the best apps out there. It is up to you to choose the one perfect for your needs. Google announced that there will be more features added to this application. Sadly, we do not know yet what these features will bring to the table.