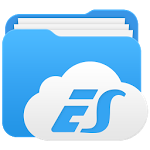 | | |
| --- | --- |
| Price: | Free |
| Version: | 4.2.3.0.2 |
| Author: | ES Global |
The ES file Explorer application is one of the most widely used tools in the file management category. It's developed for Android devices only, meaning that other operating systems have their access limited when it comes to ES File Explorer. With more than 300 million downloads worldwide, it's pretty safe to assume that ES File Explorer is the most popular file managing app there is. Are you tired of messy folders, and lost files? No worries, click the download button on this page and get started organizing your files.
ES File Explorer is a free app that can be downloaded from the Google Play Store. It maintains a regular rating of 3.7 and is reviewed by more than 17,000 users. These numbers alone do not reflect the popularity of the app. Please consider that it was removed from Google Play Store some time ago, and is just now trying to get its users back.
Main Features
● File Manager – We all know what a standard file manager does, but ES File Explorer takes it a notch higher. You can zip, unzip, install, uninstall, and manage every kind of file you might come across in your phone library. With the ES File Explorer app, it's simply impossible to get lost in the sea of files.
● Multimedia Explorer – The ES File Explorer is not limited to just editing files. It has a built-in multimedia player that can play any media file on your phone. We have researched a little bit about this topic, and, as it turns out, there are very few, unique file categories this app cannot handle.
● Cloud Storage – Google Drive, Dropbox, OneDrive, Yandex, and many other platforms are supported, meaning you can transfer, and save files with just a few taps. The uploading process is easy as well, you simply need to select a few files, click upload, and boom, the process will begin. This feature is especially useful for people who want to store files that contain sensitive data. Please note that the ES File Explorer does not have backups, so, it's always a good idea to use third-party software to save files.
● SD Card Analysis – It's always better if you check your files before running them through the operating system. The ES File Explorer contains an SD card analyst that analyzes and scans every large file for viruses. If there is a malware detected, the file will be restricted from opening. Download the ES File Explorer now, and stay safe from harmful files.
● Sharing Functions – Now that we have discussed the major features, the sharing functions also deserve a mention. If you have some files you would like to share with your friends, or family, the ES File Explorer will let you do just that in a few taps. Share any supported file on social media networks like Facebook, Twitter, Reddit, and so forth.
Conclusion
If you would like to have only one file explorer that does everything for you, the ES manager will probably be your best bet. If you would like to get started right now, click the download button located on this page.