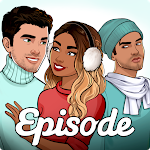 | | |
| --- | --- |
| Price: | Free |
| Version: | 12.60.7 |
| Author: | Episode Interactive |
With more than 500 million downloads worldwide, Episode is one of the most popular interactive games ever created. The gameplay is pretty straightforward. You take a place of a girl character, choose your style, and live an amazing life based on your decisions. If you are not careful, things can go south pretty quickly. But, the good thing is that you are free to choose your own clothes, develop a unique character, make friends with mean girls, and hang out with the coolest guys. The Episode game presents a whole new world of interactions and relationships that develop according to your actions.
The episode is arguably the most popular interactive app ever created. It supports nearly every operating system. You are free to install this awesome game both on iOS and Android devices. Windows Phone users also have the opportunity to use this app by going to the official Microsoft Store. The Episode app maintains a high rating of 4.2 on Google Play with more than 3.3 million unique user reviews. We have skimmed through the comments, and as it turns out, most users are enjoying this game quite a lot on a daily basis.
Main Features
Custom Style – Creating a custom style is the heart and the soul of this game. You start out as a simple girl with no fancy clothes or extrovert style. However, as the game progresses, you will accumulate different items along with unique fashion clothing. Turning your character into a princess is pretty easy. On the other hand, you can choose to pick hot clothing and become a mean girl. Most of the guys are pretty attracted to women with less clothing, and you can take advantage of this situation.
Relationships – This game is all about romantic encounters. The final goal for any female is to marry the man of their dreams. However, this is easier said than done. To be picked by the coolest guy, you have to look and perform better than your peers. In order to do so, you must have your own unique fashion style, and be great at communicating with males. You will also develop relationships with other female characters. All of these encounters make the game that much more fun.
Stories – You are given two-story options upon starting the game. However, as the game progresses, you will be given the opportunity to live your dream life. A new story is unlocked every three days. If you are impatient, you can skip the time by purchasing premium features. However, the game can be pretty complete without having to spend money. The Episode app lets you experience a lot of unique stories every few days, you just have to wait for it.
Conclusion
Overall, the Episode game is a perfect tool to help you pass some time. If you are good at socializing, chances are you will get through this game like a breeze. Go ahead and get started right now by clicking the download button. We always try to upload the latest APK files for our users.