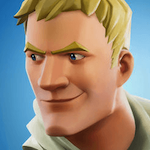 | | |
| --- | --- |
| Price: | Free |
| Version: | 14.40.0-14550713-Android |
| Author: | Epic Games |
Version:
14.40.0-14550713-Android
Updates
The first update Fortnite provided was on 16th of June. The update stated that Season 3 of the app would launch on the next day, 17th of June.
On August 14th, 2020 Epic games brought out a new in-game paying method, which didn't go well with Apple's policy of agreement. After that Apple instantly removed Fortnite from App Store and publicly stated that Epic games had violated the terms of the agreement.
Google has also announced that Epic games violate some of the terms of the agreement on the Playstore, but they are open to discussing and resolving problematic issues with them.
Apple has officially rejected Epic games offer about reinstating the Fortnite app in the App store.
If you haven't downloaded either Fortnite or any other similar type of products of Epic games, we've got bad news for you. You can't, anymore.
Google play store now has Fortnite after 18 months of absence. Google's issue with Fortnite was somewhat similar to Apple's, but Fornite took the necessary steps to reconcile.
Google demanded a 30% cut from every in-game made purchase, which Fortnite was rejecting at that time. However, after 18 months Epic games realized that some of the steps they could take business-wise were partially controlled by Google. So without being "a obidient teammate" Epic games wouldn't reach the ceiling.
Brief
Fortnite was released in 2017 and it is considered one of the biggest selling games of all time and Epic games' best work for sure. Fornite already had 125 million players in just one year.
Features
•Fortnite has three different game modes built on the same engine and graphics.
•Fortnite: Save the world is set as a player versus environment. Four players make up a team and have to cooperate on different missions. The players have to defend shelters and rescue the survivors. They collect resources, items, skins of favorite heroes.
•Fortnite Battle Royale is designed so that players are going against other players. It's like a classic deathmatch mode on other games. Players can form teams or go alone. Reminder: There are 100 players in this game mode.
•Fortnite Creative allows the players to free roam on an island and create anything starting from small houses to huge skyscrapers. The popular creations usually make it on to the Battle Roal map in an area called the Block.
Conclusion
Fortnite is obviously one of the most successful online gaming products that have ever been created. The reason for this is simple, it has a lot of game modes, cartoon-like graphics that specifically attracts children and it is enjoyable for them.
It can be less interesting for the older generation of gamers, because its' not realistic graphics nature wise, but it certainly gives joy to the younger generation of players. Fortnite even has hosted a live Travis Scott concert in-game, where players with their avatars enjoyed the music while watching huge Travis Scott figure in front.