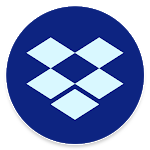 | | |
| --- | --- |
| Price: | Free |
| Version: | 184.2.8 |
| Author: | Dropbox, Inc. |
Update
Dropbox rolled out a new feature for all paid subscribers, which allows the users to save passwords and get logged in automatically after entering the credentials only once. No more logging in and out, save your password, and stay online for as long as you like. Please note that this feature is only available for Plus and Premium plans, the rest of the users will have to type the password every time while trying to log in to their Dropbox account.
Another new feature that Dropbox rolled out is called the vault. This feature allows the paid users to store personal documents, or any other sensitive data while protecting their accounts with a PIN. If you are a Plus or a Premium user, you will be able to enjoy this new feature with no extra charges.
Brief
Dropbox is a file storage tool that was developed back in 2007. It provides free as well as paid services to its users. There are plans called Dropbox Free, Pro, and Business. Dropbox works with different operating systems, as well as devices.
You are able to store all of your files in one place while protecting them with a strong password. If the free storage space provided by Dropbox is not enough for you, there is always a choice to upgrade your account as a paid user. Needless to say, all of your files will be in place once your account gets transferred to a paid library.
Main Features
● Backup Files – Dropbox implements a backup system, which helps store your files on the cloud. You don't need to do anything, this process happens automatically every few days. You can safely store your sensitive data on Dropbox and never worry about losing any of it again.
● Large Files – Ever tried uploading a large file to an email, and got an error? Well, Dropbox does very well in this category, meaning you will be able to upload and send large files (media or otherwise) without getting annoying errors.
● Edit Files – Dropbox supports most of the products designed by Microsoft. This includes all of the Microsoft office programs like Word, Excel, PowerPoint, etc. Dropbox will allow you to edit, and save them in real-time, sparing you the difficult process of downloading/uploading.
● Re-Open Documents – This is probably the best feature provided by Dropbox when it comes to saving files. This auto-saving feature will help you save progress if something happens, and let you access the file from exactly where you left off. Lights out? – No problem, all of your progress will be saved, even if you do not click a regular "Save as" button at the end.
Conclusion
All in all, Dropbox is one of the most popular file-storing platforms in the whole world. It has the best safety features, including backup options, and so forth. If you want to have a trusted cloud service, you will not find anything better than Dropbox. So, if you would like to get started, simply click the download button on this page.