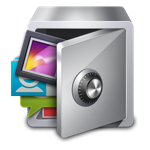 | | |
| --- | --- |
| Price: | Free |
| Version: | 2.9.3 |
| Author: | DoMobile Lab |
Applock is an app that lets you lock everything from text messages to videos, or large media files. If you are worried that someone might access your files accidentally, download this app now, and lock your sensitive information. Applock uses a simple PIN to protect your data, making it impossible for others to gain access without your permission. This app has been growing in popularity ever since it was found and is used by thousands of people on a daily basis.
Applock is a free app that can be downloaded from just about any store and works both for iOS and Android devices. You can get the latest version of this app by simply clicking the download button on this page. Applock maintains a high rating of 4.4 on Google Play Store and is reviewed by more than 650,000 users. We have skimmed through the comments and found no instances where users report minor bugs or data theft.
Main Features
● Locking with a passcode – If you do not like using a numbered pin, simply switch to passcode protection, enter your favorite password, and protect all of your data with a few taps. Most people are not fans of this option, however, if you are, feel free to do so, it's basically the same as using the PIN.
● Locking with a PIN – If you are like most people, it must sound believable to you that guessing a 4-number PIN on a whim is impossible. That is exactly why most users choose to go with a PIN-protection feature rather than a passcode one.
● Protect files – Be it a picture, video, or any other large media file, Applock will be able to put a lock on it. It works on every file you might come across, and does not require you to set a PIN each and every time.
● Protect documents – Needless to say, document files are supported by the Applock. If you are a person who keeps sensitive data in the documents, it's always a good idea to lock them with a PIN-protection feature.
● Hide files – Besides password-protection, Applock is also proficient in hiding all of your files. However, please note that until you turn the feature off, the hidden files will be completely inaccessible, even to you.
● Hide apps – This is another great feature presented by the Applock application. For example, if you would like to hide notifications from a certain app, and are unable to do so, you can use Applock to hide the entire app altogether.
● Lock SMS – Applock is most widely used for protecting SMS, or Messenger notifications. If you want to hide your texts from third-parties, simply choose to lock the SMS tab in the Applock application.
Conclusion
If you are a private person and would like to hide all of your precious data from third-parties, using Applock will probably be your best bet. However, please note that the features of this app should not be used lightly, you might accidentally remove all of your files.
If you wish to install this app right now, simply click the download button located on this page.