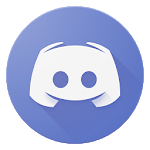 | | |
| --- | --- |
| Price: | Free |
| Version: | 35.3 |
| Author: | Discord Inc. |
Discord is a cross-platform application that lets you chat, call, or video-chat with your friends with a few taps. This application is most widely used by gamers for creating game-related chats. The Discord app is free and has already been downloaded by millions of users. Installing Discord is very easy, however, if you choose to not waste your precious space on apps like this, you are free to use the browser version.
Discord is a free app that supports most operating devices including iOS, and Android, and can be downloaded from just about any app store. It maintains a high rating of 4.5 on Google Play Store and is reviewed by more than 2.3 million users. We have skimmed through the comments to see the reaction of the users, and, as it turns out, most people are very happy with this application.
Main Features
● Chat in real-time – Discord allows you to send free texts in real-time, as well as generate one-click voice messages. This feature is somewhat Messenger-like because it allows you to send voice messages with a simple tap.
● Create groups – Probably the most widely used feature of Discord. This is precisely why most gamers choose to go with Discord when it comes to having a conversation with other players. Discord allows you to create chats, and add unlimited users, making the conversion process much smoother.
● Different settings for every user – The Discord chat would not be perfect without this feature. You can mute, block, or kick a specific user as well as remove them completely from the chat as long as you have the admin privileges.
● Multiple servers – You can create different chat groups, and operate them from the same client. Discord allows you to open several tabs of different chats, making the group-chatting process easier.
Pros
● Simple Interface – Discord features a well-designed, simple interface that is very easy to use.
● No bugs – The app itself is pretty heavy, but has no minor bugs, or freezes.
● Browser version – If you don't like installing lots of apps on your phone, simply use the browser version.
Cons
● Fortunately, we could not find any.
Conclusion
If you are a gamer or a chat-lover, Discord is an app you need to have. Granted, you can choose to go with the browser version, but for mobile users, it's much more convenient to operate from the app. If you wish to get this app right now, click the download button located on this page.
User Reviews
"I love the simple interface of Discord! It's easy to jump through the chats without having to minimize different windows. Group-chatting is made easy with this application, and I will definitely keep using it for the foreseeable future. One minor detail that needs to be improved is user profile picture file support, I have tried to upload large-sized pictures to set as my main profile pic, but the app keeps saying it is too large. I don't like resizing the pictures every time I want to change my profile pic. Other than this, the application seems to be working perfectly."