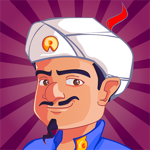 | | |
| --- | --- |
| Price: | Free |
| Version: | 7.0.14 |
| Author: | Elokence |
Akinator is one of the most popular games ever created. Upon entering the game, you will have to choose an animal, object, or a fictional character and the Akinator will try to guess what/who you are thinking of. Akinator only needs to ask you a couple of questions before it makes the final guess. You can think of anything, be it a Disney princess or a movie character, Akinator will guess it with perfect accuracy. However, do not feel frustrated afterward, because Akinator does not reveal its secrets. So, if you are ready for your mind to be blown, go ahead and download this game right now.
Akinator is a free game that supports both web and mobile operating systems. You can acquire this game from Apple/Google Play Stores for your iOS/Android devices. Akinator maintains a high rating of 4.5 on the Google Play Store with more than 2.8 million unique user reviews. With more than 500 million downloads worldwide, Akinator is one of the most popular games ever created. We have skimmed through the comments and found no instances where users reported heavy bugs or major freezes. With that being said, the Akinator app is safe for anyone to download.
Main Features
Additional Themes – Akinator has not always been so strong and knowledgeable, it could only guess fictional characters in the past. However, after undergoing a lot of updates, Akinator can now guess animals and objects as well. Your mind will be blown away when you see the perfect accuracy of Akinator. Once again, do not feel discouraged at the end, you will not be able to find out about Akinator's secrets.
Daily Challenges – The Akinator game allows you to compete in daily challenges. The more difficult the words, the tougher it is for Akinator to read your mind. If you manage to beat Akinator at least a few times, you may end up at the top of the scoreboard. However, daily challenges are limited, so, be careful when choosing your words. Try to think outside the box and come up with difficult names.
Customize Your Genie – Akinator is a powerful Genie that can be customized for any player. If you manage to win a lot of prizes, you will be able to purchase items for your Akinator. This will include hats, clothes, and even a magic stick.
Ads – Unfortunately, in order to keep on functioning, this application needs to display a few ads here and there. However, do not be alarmed, there will be no long video ads, or annoying pop-ups while you are playing. If you do not mind a few ads here and there, the Akinator app is a perfect fit for you.
Conclusion
All in all, the Akinator game is a lot of fun for people of all ages. If you still have not acquired this amazing app, you can do so by clicking the download button located on this page. We always strive to upload the cleanest APK files for our users.