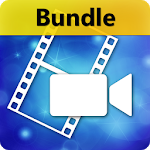 | | |
| --- | --- |
| Price: | Free |
| Version: | 4.11.2 |
| Author: | CyberLink.com |
PowerDirector is arguably the most popular app in the video creation category. It will let you create new, and edit existing videos in seconds. With more than a thousand unique effects, PowerDirector makes sure that you will never get bored with its features. PowerDirector was created by a company called CyberLink and was taken public right after its creation. With more than 100 million downloads worldwide, PowerDirector is one of the most popular video editing apps on the market today. Sign up right now and enjoy limitless free and premium features provided by the PowerDirector application.
PowerDirector prides itself on having a free version for all people, but if you would like to unlock the premium features, you will be required to pay a monthly fee of $4,33. This is not a great deal of money considering how well the software works on a daily basis. PowerDirector supports both iOS and Android operating systems. It maintains a high rating of 4.5 on the Google Play Store with more than 1.4 million unique user reviews. We have skimmed through the comments, and have found no instances where users reported heavy bugs or major fixes.
Main Features
Effects – PowerDirector includes a lot of professional effects such as sketch animations, green screen editing, intuitive motion tracking, the dynamic title reveals, and many more. This app is an all in one software that is developed both for beginners and professionals. Thousands of pro editors use this app on a daily basis. Most effects are free, but if you would like to unlock all premium features, be prepared to pay a small fee of $4,33 per month. Again, this is not a great deal of money when we consider the rich effects provided by the PowerDirector application.
Instant Creation – If you are a beginner, do not worry, because there is no learning curve included. Upon signing up with PowerDirector, you will be shown a tutorial that will teach you most everything. You will also be taken step by step through the complex process of applying professional effects. Everything can be taught, and everything can be learned in minutes. If you are worried about not being able to get the hang of this app at first, stop worrying right now, because practice makes perfect.
Premium Templates – If you have decided to become a paid user, you will enjoy the vast amount of premium themes and templates. Making a new video from scratch can be a pain at times, especially when you don't have the time. In order to solve this problem, the PowerDirector up came up with a great idea to add professionally designed themes and templates in their own directory. Once you sign up as a paid user, you will be able to make full use of this feature.
Conclusion
If you have decided to try out PowerDirector, you can do so by downloading the app from this page for free. In order to get started, please click the download button located on this page. We always strive to upload the latest APK files for our users.