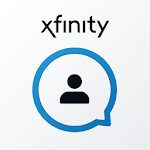 | | |
| --- | --- |
| Price: | Free |
| Version: | 1.42.1 |
| Author: | Comcast Cable Corporation, LLC |
The Xfinity My Account app lets you manage your Xfinity app from anywhere in the world. You don't need to log into the official website in order to customize settings. With the Xfinity app, you can enjoy the hands-free experience and set all the preferences with a few taps.
The Xfinity app lets you view and change your Wi-Fi password, see the tech team arrival time, check outages, pay bills, and so forth. It's a perfect tool developed by the Xfinity team and is being used by millions of people on a daily basis.
The Xfinity My Account app maintains a regular rating of 3.7 on Google Play Store and is reviewed by more than 63,000 users. We have skimmed through the reviews, and, as it turns out, there are still some bugs to be fixed. You can get the latest Xfinity app from this page by clicking the download button.
Main Features
● Billing – Sync your account and sign up with Ecobill to receive paperless monthly statements delivered straight to your inbox. You don't need to receive, read, and pay each bill separately. With the new paperless features, the Xfinity app allows you to view every statement from your email.
● Manage Account – This app lets you view your channel set up, edit account information, see the graphs of internet usage, and so forth. It's very easy to change password and other important credentials with the Xfinity app. You are also able to view your Comcast digital voice number. With the Xfinity app, the possibilities are endless when it comes to managing your account.
● Setup & Troubleshoot – Do you want to view, or change your Wi-Fi password? No problem, the interface built-in the Xfinity app lets you view such details with just a few taps. If there is something wrong with your device, and it has stopped working, you can troubleshoot everything straight from the app. Go ahead and check things like connection status, and data usage in order to get a better view of the given problem.
● Appointments – Do you have a problem you cannot resolve yourself? No worries, the Xfinity team is always there to help you. But, the good thing is that you can schedule, cancel, and view appointment dates straight from the application. Also, the app interface gives you the exact time of the tech's arrival, making it impossible for you to miss an appointment.
● Contact – If you are unable to contact the Xfinity team at a specific time, you are free to request a callback. Needless to say, the team will review your request, and call you back within a few hours, or even minutes, depending on the time of day.
Conclusion
If you are an Xfinity user, I cannot stress enough when I'm saying you need to get this app. Sure, there are some bugs, and the app freezes at times, but it happens mainly due to phone overload. The application itself is built on a heavy engine, so, try not to open up lots of apps while using the Xfinity My Account application.