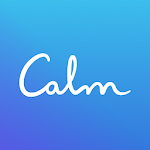 | | |
| --- | --- |
| Price: | Free |
| Version: | 4.10 |
| Author: | Calm.com, Inc. |
Calm is one of the most popular apps for guided meditation, sleep relaxation, and overall mental health improvement. This application has been recommended by lots of psychiatrists, and health experts, making it one of the most widely used apps in the meditation category. With calm, you will be able to access free programs that make you go to sleep faster, meditate, lower the stress, and so forth. This app contains thousands of free courses on how to improve your overall mental health.
Calm is a free app that can be downloaded from numerous stores and is supported by both Android and iOS systems. It maintains a high rating of 4.3 on Google Play and is reviewed by more than 300,000 users. Calm has already been downloaded by more than 10 million people and is being used on a daily basis by every one of them.
Main Features
● 10-minute program – This feature is what makes the Calm app so popular. It features a 10-minute meditation guide to help you ease into your day, or go to sleep. This program can be used right after you wake up, or before going to bed. However, we advise you to perform the steps of this program twice a day, both after waking up and before going to bed.
● 100+ bedtime stories – What's a bedtime story? It's a guided meditation for those who love to listen to relaxing stories before going to bed. However, if you are not a fan of this option, you can pick one from the meditation library. All of these stories and features are cost-free, meaning that you will be able to enjoy the full functionality of this app without having to pay anything.
● Breathing exercises – If you are struggling to go to sleep, or have insomnia, the breathing exercises will have a tremendous effect on your sleeping schedule. Simply pick one breathing exercise that fits your character best, and let yourself fall asleep in minutes.
● Gentle music – It does not matter if you are meditating, or listening to a bedtime story, there will always be relaxing music playing in the background. The tracks are chosen carefully to let you relax, and fall asleep faster.
● Unguided meditation – Not every one of us likes to be told what to do. Well, we might be exaggerating, but the meditation is not always peaceful while you are listening to a person talk. Some people prefer unguided meditations, which of course, are featured on the Calm app for free.
● Open-ended meditation – This type of meditation works best during the day. This program is not guided, meaning you will have to take your mind through the steps you see fit for yourself. Simply listen to relaxing music, and perform easy breathing exercises that make your day more relaxed.
Conclusion
If you are a meditation lover, you have probably heard of this app by now. However, if you are new to this, do not be afraid, the Calm app has specific instructions for beginners, and will guide you through every exercise. If you wish to download this app, simply click the download button located on this page.