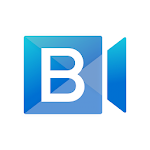 | | |
| --- | --- |
| Price: | Free |
| Version: | 37.1.1595 |
| Author: | BlueJeans Network |
BlueJeans is a cloud-based app that lets you join or host videos with a few taps. The BlueJeans app represents all the features offered by the same company, making it easier for mobile phone users to implement every option BlueJeans has to offer. The app itself is free to use and can be acquired both from this page, as well as any store that supports your operating system.
BlueJeans is freely available on the Google Play Store as well and maintains a high rating of 4.5 with more than 10,000 user reviews. We have skimmed through the comments, and have found no instances where users reported heavy bugs or minor fixes. The app seems to be working perfectly, which makes it very safe to use.
Main Features
Host a conference call – If you are in need of hosting a video call, BlueJeans must be your go-to app. There are two services featured in this department, one is free, and the other requires you to sign up as a premium member. The free option will let you host a meeting that can accommodate up to 25 participants, however, if you would like to host a conference call that contains up to 100 users, you will have to pay a monthly fee at BlueJeans.
Simple layout – It's very easy to get used to this layout. It features only a few options, and all of them are critical when it comes to hosting, joining, and editing conference call rooms. Once you log in, you will see a few buttons that say "Host", "Join", or "Edit". The host button lets you create a conference call that may contain up to 25 people (if you are a free user), the join option is for engaging in different chats that are not hosted by you, and finally, the edit function lets you manage the conference call with a few taps.
WiFi and 4G support – This app has been tested and works both on WiFi, and mobile data. We don't have enough information to say it can work on a 3G data connection, but 4G and WiFi are definitely supported. The good news is that this compresses all the calls, meaning you will not have to spend a lot of your precious data on a simple conference call.
High-quality video calls – Needless to say, such a great app must support high-quality conference calls. We are proud to say that the BlueJeans app supports both 720p and 1080p video resolutions. This means that every user's screen is broadcasted with high accuracy. Chat with other people face to face, and never miss an important detail.
Conclusion
The BlueJeans app is mainly used to host business meetings, however, that is not to say that the general public should stay away from this app. It can be implemented for other purposes as well, as long as your goals include hosting conference calls. If you still have not downloaded this app, simply click the download button located on this page to get started.