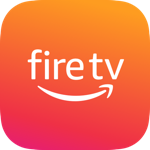 | | |
| --- | --- |
| Price: | Free |
| Version: | 2.0.8890-aosp |
| Author: | Amazon Mobile LLC |
Amazon Fire TV is a small box that can be connected to your TV. With its help, you will be able to stream thousands of movies and TV shows from Netflix, HBO, Amazon Instant Video, and many other popular streaming services. If you have not yet experienced this service firsthand, let me tell you that it's the easiest way to access all of your favorite content in one place. Amazon Fire TV box comes with a fire stick that's used for controlling all of your options. Amazon Fire TV represents a universal remote that can be used for finding different content, switching channels, and installing apps/games.
Amazon Fire TV is a completely free app and does not contain any in-app purchases. It can be used both on iOS and Android devices. Windows phone users also have the opportunity of using this amazing application by going to the official Windows Store. Amazon Fire TV app maintains a high rating of 4.0 on the Google Play Store with more than 190,000 unique reviews. We have skimmed through the comments, and have found no instances where users reported heavy bugs or major fixes.
Main Features
Voice Search – It's pretty easy to use your fingers in order to type search words into the search tab, but if this process is too inconvenient for you, there is always a voice search feature on standby. Voice search lets you control all options and perform different actions simply by speaking commands into your phone. The only thing you need to do in order to activate this feature is to click the microphone button on your screen (when the Amazon Fire TV app is open).
Recordings – If you did not know, Amazon Fire TV lets you record your favorite moments from any movie and TV show. These recordings can later be accessed by using the Amazon Fire TV application. You can watch, delete, and even share the recordings with your friends and family. Each recording shows information about the movie or a TV show episode. For example, if the recording was made during watching one of the Games of Throne's episodes, this info will be shown below the recording itself.
Keyboard – I'm not really good at speaking with cellular devices, thus giving voice commands makes me somewhat uncomfortable. If you are like me, you are free to use the built-in keyboard from within the Amazon Fire TV application. You can search for movies and TV show episodes in seconds, making the overall searching process much smoother.
Apps & Games – This is yet another important feature that is often overlooked. The Amazon Fire TV app will let you gain access to all of your apps and games. You can play games straight from within the app to pass some time if you need to.
Conclusion
Overall, the Amazon Fire TV app is a perfect tool for controlling your subscription services. If you wish to acquire the latest APK file, please click the download button located on this page. We always strive to upload the latest app versions for our users.