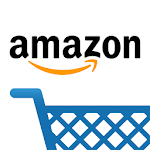 | | |
| --- | --- |
| Price: | Free |
| Version: | 20.22.2.100 |
| Author: | Amazon Mobile LLC |
The Amazon Shopping app is an innovative software that makes the process of shopping on amazon much easier, and smoother. No more searching for different products separately, now you can use the simple interface of the Amazon Shopping app to search for specific goods with one tap. This app also features a voice command search, making the whole process much easier. Download Amazon Shopping right now, and browse millions of different products from within the app.
Amazon Shopping is a free app that supports just about any operating system. It can be downloaded both for Apple, and Android-powered devices. You can click the download button on this page to acquire the latest APK version. Amazon Shopping maintains a high rating of 4.1 on Google Play Store and is reviewed by more than 1.5 million users, making it one of the most popular apps in the world.
Main Features
Voice Search – Speak different commands into the phone microphone in order to make the app perform specific searches. Use word codes like "Buy more socks", "track my order", etc. in order to perform your desired actions. The Amazon Shopping app uses an AI-based algorithm, which means it will be able to understand just about any human word command.
Order Tracking – Tracking your orders has never been easier, the Amazon Shopping app features a well-designed tracking page, which lets you know the whereabouts of each and every one of your products. Jump to the tracking page to see where your product is currently, the arrival date, shipping costs, and so forth.
QR Scanner – If you would like to compare prices of specific products, simply scan the barcodes, and let the application do the rest for you. This feature is especially useful for people who buy a lot of products in one go. Not to imply that it's useless for regular Amazon customers, but the QR scanner is mostly used in order to compare the prices of two specific goods.
Android Wear Support – Do you have an Android watch you would like to use for shopping? Now it's made possible with Amazon voice commands. Simply speak the desired commands into your watch, and let the Amazon Shopping app do the rest. It's amazing how far technology has brought us.
Instant Notifications – The Amazon shopping app lets you know instantly when one of your products arrives. These notifications include the time of the arrival, package size, shipping costs, and so forth. You are also free to customize these notifications if you would like to receive them on your Android Wear as well.
Conclusion
If you are an Amazon shopper, it is safe to say that you need to get this app right now. Amazon Shopping comes as a pre-installed app on most Android devices, but if your phone lacks this application, you are free to click the download button on this page in order to get the latest APK of Amazon Shopping.