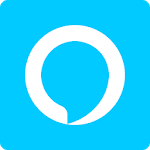 | | |
| --- | --- |
| Price: | Free |
| Version: | 2.2.369045.0 |
| Author: | Amazon Mobile LLC |
Update
Amazon Alexa is integrating a Bollywood actor voice (Amitabh Bachchan) in their software. This addon will be done only for the Indian market and made available in 2021.
Brief
Amazon Alexa is manufactured by Amazon Mobile LLC. With this app, you can manage your device in so many ways that it's mind-blowing. The features include Amazon Echo, sorting your music, setting alarms, transferring pictures along with all sorts of media, etc.
Amazon Alexa is offered to both an Android and iOS device owners. It is pretty easy to set up and manage your Alexa device remotely. You can check the weather, listen to music, manage lists, create schedules, set alarm, etc.
Amazon Alexa app is free to use for both Android and iOS users. With the latest version of 2.2.350157.0 new features have been added. This app does not freeze or crash and no such claims have been made by its users.
Features
Amazon Alexa can be integrated with Amazon Echo. This combination offers enhanced features like controlling and setting up your device remotely.
Play any song via voice commands and love the hands-free music experience.
Get the latest sports news, read magazines, open online journals, etc.
Do not have an assistant? No problem. Amazon Alexa will be your helper. This app can hear your commands from 7 feet away, which is pretty good.
Amazon Alexa will notify you about your notes, alarms and even tell you what the weather is like.
If your friends also have the Alexa app, you can make voice or video calls in high definition quality.
Amazon Alexa uses AI (artificial intelligence) to learn and adapt perfectly to your needs. This app has many built-in features to make the learning process faster.
This application is cloud-stored, which means you will not have to lose any data when doing transfers or video calls.
F.A.Q
Does Amazon Alexa record my conversations?
- Truthfully, no such thing takes place while using the Alexa app.
What will happen after I send a voice command to Alexa?
- The voice command goes through the server, converts it into action and you get the desired result.
Do I have access to my recordings at all times?
- Yes, you will be granted access to all media that you create.
Can I delete my recordings?
- Yes, of course, you have the full authority on what to keep or not.
Are the deleted files completely lost?
Yes, you can not retrieve anything you delete.
Does Amazon Alexa use my recordings?
- Yes, but only for AI reasons. This process helps the app to adapt to your needs.
Will I be able to turn off voice purchases?
- Yes, there are no issues here.
Is there any chance that my information will be stolen?
- Not unless you hand your device to someone else.
Do I have to pay at one point to continue using the app?
- You can try it out for 14 days and then decide whether or not it is worth purchasing.