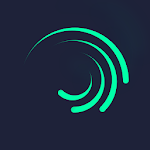 | | |
| --- | --- |
| Price: | Free |
| Version: | 2.5.1 |
| Author: | Alight Creative, Inc. |
Alight Motion is a professional video editing app that lets you create amazing videos and animations as well as edit them in a professional manner. Sign up for this app right now and gain access to thousands of unique effects, layers, graphics, color correction, and so forth. It does not matter if you are a beginner or a professional, the Alight Motion app is perfect both for newbies and pro editors. This app features a free version that allows you to access limited options, however, if you have an extra $5 to spare each month, you will be able to unlock all premium features.
Alight Motion is a free app that supports both iOS and Android operating systems. You can acquire this app both from this page and Apple/Google Play stores. Windows phone users also have the opportunity of downloading this app by going to the official Microsoft Store. Alight Motion maintains a high rating of 4.2 on the Google Play Store with more than 186,000 unique user reviews. We have skimmed through the comments and were unable to find the instances where the users reported heavy bugs or major fixes. This app is completely safe for any device.
Main Features
Graphic, Audio & Video Layers – Are you trying to create an awesome-looking video from scratch? No problem, Alight Motion is designed to aid you in this process. Is editing a video in a professional manner is what you are after? No worries, this application will let you access thousands of premium features to help you do the job quickly. It's super easy to create a superb video file with pro graphic, audio, and video layer support. The only thing you will need to do is experiment with this application for a few minutes to get a good grasp.
Fonts – If you are a professional video editor, surely you must know that no video can be perfect without including a few words here and there. Alight Motion lets you access some of the most amazing fonts on the market. The best thing about this feature is that you don't have to pay anything in order to make full use of it. Granted, some features are included in the pro version, but nearly all fonts are free for your editing pleasure.
Export – Are you done editing your video? Simply click the export button and choose one of the many export formats. Alight Motion supports every possible video format available on the market today. If you are looking to further edit your video with different apps, importing it will be a piece of cake since the Alight Motion files can be read by any software.
Conclusion
All in all, the Alight Motion app is a perfect video editing tool for people of all ages. Granted, it takes a few minutes to get used to the interface, but once you do, creating awesome-looking videos will be a piece of cake. In order to get started right now, please click the download button located on this page.